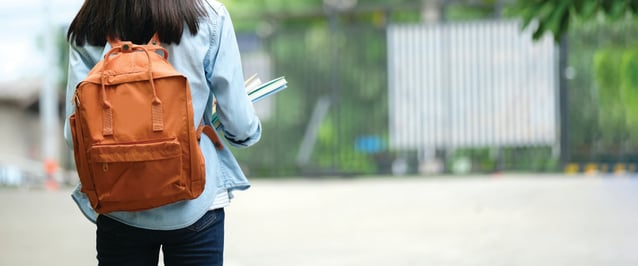 Anyone actively involved in higher education in the past two years has had a wild ride. From instructors to students to administrators, no one had an easy time making choices, adapting courses, or learning in a new setting. Many prospective students continue to wonder how COVID-19 changed the college experience in 2020 and 2021 and beyond. They are looking to the future and asking, "When the pandemic ends, will school change forever?"
Impacts of COVID-19 on Colleges and Universities
The pandemic interrupted whole school years with virtual learning requirements. In-person schooling became a very different kind of collaborative, with students masked or distanced in classrooms. Quarantine requirements after COVID exposures created holes and gaps in many people's educations, and virtual options were sometimes unavailable during those two weeks of waiting. 
The good news is that colleges have since found many tools and strategies to make the experiences of the post-COVID classroom better and more consistent for all involved. New students should prepare for some of the changes that came to be lasting, especially as COVID variants are likely to persist long-term even as their prominence diminishes.
Get Clarity on In-Person and Virtual Curse Options
Every school and every class made a different call on how to protect students by delivering high-quality education. For instance, practicum classes that normally require hands-on training and testing had to make choices about offering more dates with smaller cohorts, without going entirely virtual. Other courses meet more often synchronously, or in real-time, online but cut the entire classroom component.
While the terms "in-person," "hybrid," and "online" do help prospective students pick a course that fits what they need, it's essential to clarify what in-person and online classes mean before signing up. Expect that many of these options will persist for as long as the demand is there.
Since many students find their attention style works well in a live classroom, those courses are likely to grow over time back to similar levels that existed pre-pandemic. However, a substantial group of students has discovered they learn well in virtual environments, and those options are likely to continue rising in popularity.
Colleges Requiring Masks, Testing, or Vaccination Records
Schools in different parts of the country have implemented other safety mandates, often depending on a combination of their preferences as colleges and the local regulations and orders regarding public safety. For example, schools have:
Implemented universal masking, either only indoors or only outdoors. 
Required an approved COVID-19 vaccine to enroll in person, alongside other admission requirements.
Required periodic COVID-19 testing for individuals exempt from receiving a vaccine.
Allowed all-online enrollment for students who do not wish to mask, vaccinate, or participate in in-person classes.
As these regulations relax, make sure you talk to your chosen institution about typical requirements. For instance, some schools have dropped mask mandates to mask recommendations after implementing a vaccine mandate, but to know whether 10% or 80% of students are wearing masks, usually, you'll just have to check with your school. PCC has its mask mandate still in place, regardless of vaccination status, and students can obtain masks if they do not have one of their own. Students can freely move about the campus if they are masked, however, it is requested they don't attend classes during a self-quarantine period.
Finding a place that fits your comfort level while also offering all the courses you need is just a new part of how COVID changed the college experience. In the meantime, students can take measures to keep themselves and those around them safe by washing their hands and checking how they feel daily to prevent a resurgence in COVID-19.
A More Contagion-Aware Future for Educational Settings
While eventually, we all hope for a world where risks are so low that all mandates are relaxed, the reality is that the pandemic has heightened concern about more common contagions like the flu. It's wise to expect that classroom capacities, occasional masking for contagious or vulnerable individuals, and virtual school options for sick students will continue to exist long after the particular threats of COVID-19 have passed.
So, when the pandemic ends, will school change forever? The answer is probably yes, but not in a negative way. It will instead be an opportunity to keep the lowest-hassle, highest-impact changes for future student safety.
Colleges With Virtual Options Have a Leg Up
One way that Portland Community College helps students adapt to the ever-changing world of education post-pandemic is with the variety of options offered for both its credit and non-credit courses. Even before the pandemic, PCC has offered a wide variety of online and hybrid coursework that used tools like online simulators to give students many of the classroom experiences but with the convenience and flexibility of studying from home.
We work with many students who have caregiving and work obligations that make managing a full-time in-person class schedule challenging. Get to know how PCC has continued to innovate in online and hybrid courses and how that can help you during and after COVID regulations.