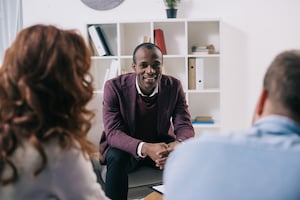 When a person is attempting to change a habit or behavior (such as beginning to eat healthier, quitting smoking or adjusting their work schedule), one of the most important ways this happens is through intrinsic motivation. This means that the person changing the behavior is motivated by internal factors and desires.
That being said, it is possible for mental health professionals to use innovative methods and strategies to encourage and engage intrinsic motivation in their clients. This is where Motivational Interviewing (MI) comes into play. We have put together some basic information about this tool and how it can benefit someone trying to make significant changes.
What is Motivational Interviewing and How Does it Work?
Motivational Interviewing is a type of counseling that is directed, goal-driven and much different from other types of counseling. With MI, the counselor is attempting to influence the individual, rather than simply engaging in an exploration of thoughts and feelings.
The benefits of MI are numerous. The basic idea is that it resolves ambivalence about an issue and involves the client in coming up with solutions for getting past hurdles that may be standing in their way.
The Key Principles of Motivational Interviewing
The five main principles of MI that a counselor will follow include:
Express Empathy - Using reflective listening techniques, the counselor will listen to any problems and avoid making judgments. Instead, they will focus on making the client's thoughts feel valued.
Develop Discrepancy - This step involves helping the client understand the difference between how he or she is today and what he or she wants to be like in the future.
Avoid Arguments - Even while placing gentle pressure on the client, the counselor will avoid arguing or pushing back when resistance is met.
Adjust to Resistance - If resistance does occur, the counselor should tune into the client's perspective and change direction or listen more carefully.
Support Self-efficacy - For many clients, this has been broken down over numerous attempts to change independently. The counselor works to rebuild the self-efficacy that is needed to succeed at a major lifestyle change.
The four processes a counselor uses during MI include engaging, focusing, evoking and planning. Understanding when each of these is necessary and how to get the most from a client by using these processes is what separates a true MI professional from others.
Why Motivational Interviewing Works
MI is effective because it allows a client to identify what thoughts and feelings cause unhealthy or unwanted behaviors. At the same time, it helps the client build new thought patterns that make changing behaviors easier or even possible.
MI can benefit mental health professionals and their clients as it builds a rapport first and then works towards changes second. Everyone is more comfortable during the process and big changes can be made.
PCC's Motivational Interviewing Course
Portland Community College offers a Motivational Interviewing course designed for anyone in the counseling or public service field who may want to utilize MI as a technique for connecting with clients. The class teaches how to use core MI strategies to assist with behavior modification in clients. This is a practice-based class which provides basic understanding and skills of the MI process to enable those who complete it to help clients create significant changes. This is a one-day, eight-hour class with a cost of $159.
Intrinsic motivation is, by far, the most important influence in making changes. Motivational Interviewing helps healthcare professionals support behavior change by encouraging the client to take advantage of the intrinsic motivation they may not know they already have. If you'd like to learn more about MI, check out PCC's Motivational Interviewing course to gain the knowledge and skills needed to help people lead healthy lifestyles.