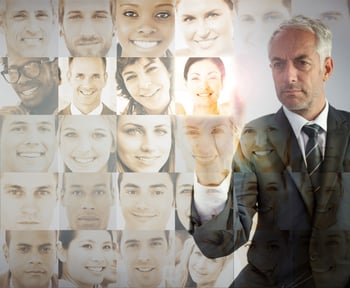 Tired of sitting in an office cubicle at a dead end job? You're not alone. As you read this there are hundreds of professionals in the workforce with similar sentiments. So if you're looking to make some moves — perhaps land your dream job, or move up the corporate ladder, then this is the right read for you!
In this article, we're breaking down five key characteristics of what managers are looking for when hiring new employees. Of course, some skills you'll need to get hired are specific to the role. But there are some general traits that are universally beneficial to anyone looking to grow their career. We've shared them with you below.
Leadership
Demonstrating leadership skills and initiative is a very attractive trait for new hires. Certain qualities that make someone a good leader include honesty and integrity, the ability to inspire and motivate others, being able to work as a team, openness to giving and receiving feedback, juggling and managing different projects, and being innovative.
A study done by the Harvard Business Review found that there are a set of leadership skills that are key to you throughout your career And if you wait until you're on top of the ladder to develop these techniques, it will be far too late. In fact, the study revealed that as people move up within an organization, the fundamental skills they need will not dramatically change.
Customer Service
Customer service is more than just smiling at customers. It's a type of innate problem solving skill. Professionals who have great customer service skills are able to stay calm in times of crisis, have exemplary communication skills, patience, and empathy needed to mediate frustrating disputes and conflicts. Customer service is incredibly important to businesses not just for client or customer loyalty, but also for internal communication and efficiency. If you can demonstrate a track record of exemplary customer service, you will quickly become an asset to your new employer.
Communication
Great communication skills — internal or otherwise — are necessary in any company, position and industry. In fact, Forbes named communication as today's most important skill. Today, we tend to take communication for granted. We don't think twice about our ability to call a friend across the country, and without leaving our desk, we can chat with coworkers to easily communicate our needs or updates on certain projects.
Because of this, it's increasingly more important than ever to communicate well. That doesn't mean that you need to take public speaking classes (however, it wouldn't hurt), but create a space to openly share dialogue with coworkers, clients and management. When someone reaches out to you via email, instead of leaving the message until you have the chance to get to it, it's a best practice to reply with a simple "I'm on it" or "received — give me a few days to get this project done" so that the recipient knows you're working on it and they're not left hanging.
There are numerous basic functions you'll need to master as an employee. Things like leading, planning, organizing and time management, but what's the golden thread tying all these functions together? Communication. If you're a poor communicator, it'll be one of your biggest obstacles to maximizing success. A big part of communication is harboring relationships — if you have a relationship with someone, you can solve any problem. If you don't have a relationship with them, everything is a problem.
Working With Others
While on the topic of relationships, being able to collaborate with a team and problem solve is incredibly important in today's workplace. With companies growing more and more diverse and geographically scattered, it's increasingly necessary to be great at building relationships and working well with others.
Being able to work with others creates a strong sense of unity. Having that enthusiasm for common interests and responsibilities makes working in a team much more enjoyable, and supports a more empowering way of working. Moreover, working with others promotes the sense of achievement, equity and camaraderie — essential for a motivated workplace.
We all remember the motivational poster from our kindergarten classroom — there's no "I" in team. But, teamwork can still greatly benefit you on a personal level. Don't allow competitive natures to be a roadblock for your personal growth in the workplace. Instead, learn how to resolve conflicts and trust your teammates to contribute their best ideas. Be open to learning from your team members and build on each other's skills to craft more impressive results at work.
Computer Skills
In our ever-connected world, technology make doing business easier and more efficient. If you're unable to create a spreadsheet or send an email, you're at a major disadvantage in the job market. Being digitally literate opens up a world of job opportunities and promotions.
If you think you could use a refresher course on computer, software, or IT skills, many libraries and other community businesses offer free classes to the public. In fact, at PCC and at the CLIMB Center we offer many courses for students. Like this winter we're offering a Microsoft Excel Level 3 course. Complimentary workshops are also available — check the PCC Library's Facebook for all upcoming courses.
Taking advantage of these courses behoove you as a professional, especially when you're looking for a job. And once your land your job, ask your company to pay for you to further your knowledge on certain skills. Many businesses are happy to do so as it ends up benefiting them as well.
The Takeaway
If you're not happy with where you are in your career, make a move You don't have to be rooted down in a miserable and draining job.
Having now read this article, you're familiar with five of the greatest characteristics of what businesses are looking for in new employees. So brush up on your interview skills and start your job search today!