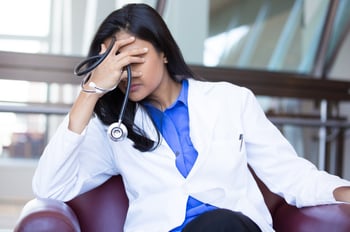 Going into the healthcare field is one of the most rewarding career choices one can make. But, due to the nature of the industry, it often doesn't leave much time — or energy — for basic personal health. In fact, a study by Southern Cross University, of more than 6,000 nurses found that nearly 30% had some chronic illness, including obesity and heart disease. It's important that healthcare professionals are working to stay healthy and happy, despite the odds, by committing to reducing stress, eating better, and making changes to their lifestyles.
The Healthcare Burnout Factor
The demands of positions in the healthcare industry make staying active and fit so challenging. Ten- and twelve-hour shifts are common for hospital workers, causing extreme fatigue and increasing stress levels.
Irregular hours, according to the survey by Southern Cross University, further prevent healthcare professionals from accessing a gym or having the energy and motivation to cook healthy foods. Often relying on fast food, takeout, and unhealthy snacks as quick meals.
There are several ways one can combat unhealthy lifestyles at the hands of a job in healthcare. Learning how healthcare professionals can stay healthy will help you find the right path to wellness without having to change your schedule or professional goals.
Ways Healthcare Professionals Can Stay Healthy on the Job
One of the easiest ways to go from unhealthy to healthy is to commit to making healthier decisions. Start by making changes to your diet, like eating breakfast and introducing more fruits and vegetables. Also, determine how you can avoid fast foods and eat healthier throughout the day. And, instead of turning to a soda or even a cup of coffee, make a conscious effort to drink more water.
Healthcare professionals can also set up a realistic exercise or workout schedule. Since you may find yourself working odd hours, find a gym or facility near your workplace and exercise during the day, or on your lunchbreak. Another simple step to take would be to get outside and walk throughout the day or on breaks as a way to clear your mind and stress levels. Also, be conscious of smoking and drinking as a way to blow of steam or alleviate stress. If you're a smoker, quit, and consider cutting back on your alcohol intake. There are two things that should improve overall energy levels as well.
Healthy Healthcare Workers
A career in healthcare can be a thankless one, leaving little or no time for those involved to think about themselves or their wellbeing. But, to stay healthy and energetic, professionals need to make changes to their current lifestyles.
If you're a healthcare professional battling fatigue and odd hours, consider these tips in order to increase your energy level in the workplace and play an active role in your own health.