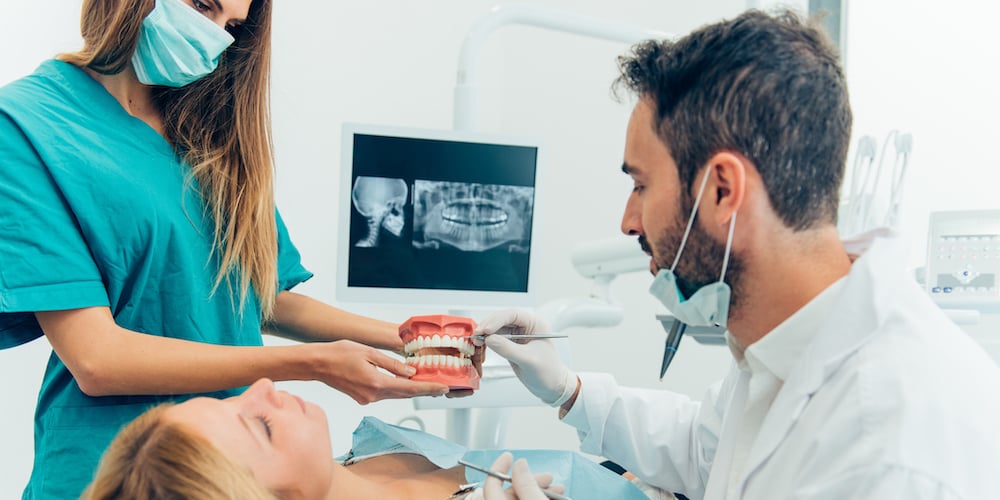 PCC's Integrated Community Dental Assisting program (ICDA) has been working hard to help fill the demand for dental assistants in our community. Success and satisfaction has been experienced by the first two cohorts of students, within their externship dental offices and sponsors. We're accepting applicants to our next cohort, beginning with an orientation in January. Keep reading to learn more!
We are excited to announce that in 2020 Integrated Community Dental Assisting will be offering the option for students outside the Portland Metro area to enroll in the didactic only portion of the program. Students enrolled in the didactic only program, will also be required to complete the externship and hands-on assignments at their sponsored office.
PROGRAM OUTLINE
Both Integrated Community Dental Assisting's programs prepare students for hands-on skills and DANB exams, with a curriculum that has been developed to meet CODA standards. All didactic course work is delivered in an online classroom, to accommodate students who are not candidates for daytime programs. The hands-on, skills are presented and practiced at PCC's Dental clinic located at the Sylvania campus, or in the sponsored office.
All students are required to complete a 400-hour externship, where they obtain experience in "real life", hands-on skills, to prepare for Dental Assisting National Board (DANB) exams and 4-handed dentistry. This includes 8 hours per week the first term, and 16 hours per week, the second and third term.
The 2020 Integrated Community Dental Assisting cohort has 24 available seats, and our objective and expectation is for our students to be exceedingly well prepared as contributors in the dental office in which they gain experience, and to demonstrate they will be a valuable addition to any office needing talented and qualified dental assistants.
HOW CAN YOU GET INVOLVED?
We would like to encourage the dental community to become involved with this educational pathway. You have the opportunity to help create a sustainable career for dental assistants in our community, by sponsoring a student, either financially or as a dental office externship site. Students, or their sponsor, are required to pay the entire tuition up front (payment plans available). Students will have additional expenses including books, attire, exam fees, background check, immunization updates, etc.
Attend an Orientation - January 14.
Join us to learn about PCC's Integrated Community Dental Assisting Program. The 9-month program offers the skills needed to become a professional dental assistant - a rewarding career in high demand! Would you like to attend the orientation? RSVP here.
Questions? Contact Stacy Bone at: climbhealth@pcc.edu
More.
The dental assistant is an important member of the dental team, assisting the dentist in providing both technical skills and communication, sometimes working independently in serving dental patients.
PCC's Integrated Community Dental Assisting program offers a strong foundation that enables quick entry into a high-demand field after only three terms. In this program, we teach you the skills you need to succeed, and we give you the field experience, the contacts, and sufficient time to learn the most important techniques. In just nine months, you can begin a rewarding career in which you serve the oral healthcare of thousands of people.
Time.
3 terms, 9 months
Didactic work all online, Labs held every Saturday. Externship in Dental office one day a week 1st term, and two days a week 2nd & 3rd term.

Tuition.
$7,829 excluding textbook and student kit. Tuition is due at the time of registration, or students may set up a monthly payment plan with the Portland Community College Business Office. For Information about the payment plan, please visit the PCC Payment Plan webpage.