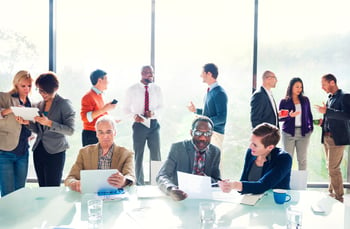 The workforce is constantly changing and professional development skills and training should adapt as well. As society and the economy evolves, so does its workforce. In a rapidly changing market it is important to observe and predict trends as a business owner and/or professional. In this article, we've outlined four of the top workforce issues that we believe businesses should be aware of in order to make the most strategic business decisions, and avoid any surprises.
1. Young People Taking Over the Workplace Have Different Values
Millennials make up the largest group in the workforce - and they're followed closely behind by the next generation! Their dominance alters the dynamic in the workplace and brings about a fresh set of principles. The 'New Kids' youth and generational differences play a critical role in their relationship and expectations with businesses today.
These employees want purpose and recognition. Employees desire to have their voices heard. They don't want to feel like cogs in a perpetual machine. They want to feel as if their efforts mean something to the company.
How can business owners and managers prepare for this?
The Opportunity: Invest in your company culture with contemporary and curated professional development opportunities. Creating a workplace that is fun and engaging will keep your employees happy and interested, but it needs to be authentic and not forced.
Remember, they are basing their tenure off of what benefits them as an individual. It's important to invest in benefit programs or health and wellness plans for your company, to keep your employees loyal. Growth plans are another measure to give your employees a feeling of value. It also gives your company a sense of transparency. Employees, with the ability to visualize where they are in the company and where they are headed, gives them traction in the workplace and makes achievement within a company more tangible.
2. Boomers Are Retiring, Leaving a Knowledge Gap
The baby boomer generation is retiring, their experience is leaving a "knowledge gap" in companies.
Losing three people with an average of 30 years of experience adds up to almost 100 years of knowledge loss. Without proper planning for their successors to 'pick up the slack', companies can be left at a great disadvantage.
There is even a new network attempting to fill these gaps. 'Encore' employees are being scouted and are looking for companies in need of experienced (midlife or later) talent. Although many boomers are retiring, some are finding their expertise and experience in high demand. "The need is not across the board; not all retirees are in demand. But the older-worker brain drain is a big concern for industries like mining and health care."
How can business owners and managers prepare for this?
The Opportunity: Open up the conversation with your senior employees. Make sure you have a plan for their retirement. More importantly, make sure their knowledge is trickling down to the rest of your staff. Starting a mentorship program is a great way to inhibit the exchange of information within your company. Pair up your seasoned veterans with your 'up and comers' to stave off any impending "brain drain".
3. Talent Gap Despite so Many People Having Degrees
Everyone practically has a college degree. An employee's success in a company can't be solely based off of education. Schooling used to be an easy filter to admit employees but there are other variables that need to play a much larger role in hiring and retaining the right employees for the job.
"A shortage of people with degrees in STEM fields is a problem, no doubt. But an even bigger problem is a shortage of people with the right skill sets." Finding people with the right skills for the job is a huge issue in the workforce. But it goes beyond technical skills, often finding employees with deficiencies in "soft skills" like creativity, leadership and communication. These subtle and seemingly untraceable attributes can mean the difference between a valued employee or someone who is "just not quite working out".
How can business owners and managers prepare for this?
The Opportunity: Look for other extra curriculars and training that sets candidates apart. Degrees don't always determine mastery. Personality tests are a great way to measure a prospective employee's "soft skill sets" as are simply asking the right questions in an interview. If the candidate, does however display the basic attributes you're looking for, it could be a matter of training. It is important to look at the wide range of skill sets that will determine an employee's success in a role.
4. "Job Hopping" Is In
In the past, employees were seemingly more loyal to their respective positions and workplaces. However, in recent years the inclusion of social media and search engines has greatly influenced job hunting. People are more interconnected with prospective companies and hiring firms. Rather than waiting around for a raise at the same company, employees are now hedging their bets in financial security by making themselves available to other companies regardless of the comfort or security their current position offers.
In fact, 91% of Millennials (born between 1977-1997) expect to stay in a job for less than three years, according to the Future Workplace "Multiple Generations @ Work" survey of 1,189 employees and 150 managers.
It isn't just Millennials either. After the 2008 recession, many Gen Xers and Baby Boomers are also not as committed to staying at the same company as they were pre-recession.
How can business owners and managers prepare for this?
The Opportunity: Staying ahead of any issues is your best bet. Creating a workplace that caters to young employees' desires, as well as your other employees, is paramount. Having good benefits and employee involvement within the company are smart ways to retain your employees as well.
Sometimes, there is nothing you can do to retain a member of your team in search for greener pastures. However, having an open dialogue and developing personal relationships with your employees, will keep you ahead of the game and in the know.