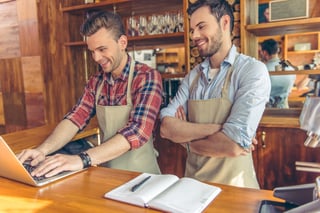 No matter how successful you are, owning and operating a successful restaurant is an ongoing challenge to maintain - and build upon - your accomplishments. Whether it's keeping up to date on the latest in restaurant news, or finding tips and tricks on how to improve service and food quality, it's important to continually tap into resources that can help improve your business.
The good news is there are tons of blogs, websites, and resources for restaurant owners that can aid in pretty much any area of operating a successful establishment. On the other hand, it can be tough knowing where to start, what to read, and whom to trust.
That's precisely why we've put together thirteen of the top blogs and resources that restaurant owners should be subscribing to and reading on a regular basis:
The team at Restaurant Den are all about one thing - designing great websites for restaurants. With notable clients like La Contessa, Restaurant Den has tons of expertise designing and optimizing restaurant websites, and their blog is a fantastic resource for restaurant owners looking to build a new website or improve upon their existing one. Check in regularly for tips on things like how to take great food photos for your website, to best practices for your point of service (POS) system.
If you're looking for an online community like-minded restaurant owners to engage with, then RestaurantOwner.com is one of the best places on the web. The RestaurantOwner.com community site has content geared towards owners, managers, and even those whose dream it is to one day own their own establishment. A great site with a plethora of free resources revolving around three main pillars of Business, Systems, and Culture that are necessary to operate a successful restaurant.
The Restaurant Expert provides both software technology and coaching to restaurant owners as their core paid service offerings. But as a free resource to restaurant owners, they also offer a blog that offers advice around technology and how to more effectively operate and manage a restaurant. The Restaurant Expert blog is a great place to check in about topics like coping with minimum wage increases and utilizing the right technologies to increase profitability and guest retention.
As one of the premier online learning websites, Alison.com offers courses in a variety of topics related to owning and operating a successful restaurant. And while Alison does charge for courses, there are also free courses and learning content available for restaurant owners. For example, Alison is currently offering a free online certification diploma in Food Safety, covering topics such as employee hygiene, food hazard controls, and what to do if there is a food safety incident.
Reserve is an app designed to make reservations faster and easier for restaurant goers across the country. But their blog is also chock-full of useful information for restaurant owners to read on a regular basis. In addition to news about the evolution of the Reserve app itself, the blog covers topics like how to manage the door at your restaurant more efficiently, and how to achieve longevity in the restaurant and hospitality industry.
Restaurant Engine specializes in both traditional and mobile restaurant website design, and are also experts in integrating digital ordering functionality. Their blog is also a wonderful resource for restaurant owners and is updated quite frequently with advice about both web design and restaurant operations in general. If you're looking for tips on how to design your site, brand your restaurant, or hire the right chef, the Restaurant Engine blog is a great place to start.
As a technology company that helps restaurants optimize drinks and alcohol inventory, management, and sales, Uncokd's blog is one of the best online resources for restaurant owners seeking to learn more about how to better manage their alcohol service. Uncorkd's blog provides a wide variety of information, from beer and cocktail trends to spreadsheet templates to help you better manage alcohol inventory.
Modern Restaurant Management is one of the most comprehensive websites and online resources for restaurant owners, covering a wide array of topics. MRM's content is divided into several topical areas: Marketing, Operations, Design, Equipment, Finance, and Law. Anything from developing a marketing plan to meeting regulatory standards can be found on MRM, and it's also wise to sign up for their newsletter to have useful (and free) info delivered straight to your email.
The Foodable network is a digital media company, with shows and personalities covering a variety of food and restaurant-related topics. And what's more, the Foodable blog is a highly useful spot for restaurant owners to stay abreast of industry news, discover recipes from Foodable's network of chefs and personalities, as well as trends in food and technology. You'll also find information on which food and beverage related events and shows are worth attending in various cities across the country.
As both a physical magazine and digital media property, Restaurant Hospitality is an in-depth resource for owners, managers, and leaders in the industry. But what's unique about the Restaurant Hospitality blog - and why you should read it regularly - is that it has perspectives from owners, chefs, and consultants. Topics from creating a great culture for your employees to appealing to critics can all be found on Restaurant Hospitality blog.
As one of the major online review sites, most restaurant owners are familiar with Zomato (formerly Urbanspoon). While managing online reviews is a separate topic in and of itself, the Urbanspoon blog does provide a plethora of useful information to restaurant owners. From ideas for new menu items to how-to's on creating an app for your website, the Zomato blog is a free resource that's worthing visiting on a regular basis.
As a point of service (POS) software company for bars and restaurants, Toast has in-depth expertise on utilizing technology to optimize the performance of hospitality establishments. Toast's experience definitely shows in their Restaurant Management blog, which provides tons of practical tips and advice. Anything from improving the financial performance of your restaurant, to writing better menus are on the Toast blog, making it well worth reading on a regular basis.
One of the more practically oriented free resources for restaurant owners, the All Food Business Blog is a great place for how-to's on operating your restaurant and kitchen more a more safe, efficient, and cleanly manner. You can find a myriad of resources, from food safety guides, business plan templates, and equipment maintenance manuals. If you're looking for highly-specific tips and topics, the All Food Business Blog archives are a great place to start.
Hopefully you've pursued some of these blogs, websites, and free resources, and bookmarked the ones you'll want to visit again regularly. By keeping up to date on some of these free resources for restaurant owners, you'll keep up to speed on the latest industry developments, and be able to keep your establishment humming along and your customers satisfied. Learn more via our Restaurant Business Builders program.