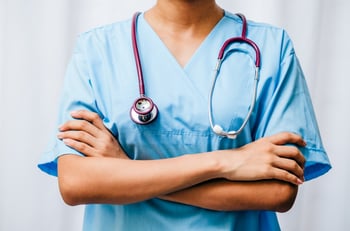 If you have made the decision to begin your career in the healthcare field, you undoubtedly are already spending plenty of time searching for openings, writing cover letters, and sending out resumes. On its own, the application process can be stressful. So what happens when you add the pressure that comes with your first interview for an entry level healthcare position?
Understandably, you may feel a bit intimidated at first. After all, you are getting set to enter a new field with new surroundings. But by taking the time to prepare and research your potential employer, you can master the art of the interview and put your best foot forward. When preparing for your interview, keep in mind the Three R's: research, rehearsal, and references. These tips for interviewing for healthcare positions will help you on your journey to landing your first position in the healthcare industry.
Research
Preparing for an interview means more than simply understanding the mission statement. Today's interviewers are looking for someone who is interested and engaged — someone who doesn't just want a job, but wants a job with them. This is especially true when you interview for healthcare jobs.
To have a better idea about your potential employer, take a look at their website. There, you can read about the services they provide, especially those in the area that you're applying for. Viewing a company's website can also help you prepare specific questions. For example, about who their patients are, how many they see in a day, and what the most common patient-related issues you'll see are. It would also benefit you to understand the company's financial situation and educate yourself about what changes they may be projecting into the future.
Along with doing your research, you should also prepare your resume and other related materials. Ensure all your most current qualifications and certifications are listed on your resume, and bring copies of any certification to present to the interviewer.
Rehearsal
You are going to be interviewing for a specific role in an organization, so you will undoubtedly be asked questions about that role and the industry in which you'll be working. Put yourself in the interviewer's shoes. If you were interviewing someone for this job, what would you want to know? This might include questions about punctuality, — do you have a history of showing up late? — availability, — are you able to come in early or stay late if asked? — and dress code — can you cover up tattoos, take out piercings, or tone down the color of your hair?
You may also want to practice answering both common, and not-so-common, interview questions. Watch yourself answering these questions by standing in front of a mirror or recording yourself. Rehearsals will help you improve the delivery of your answers and allow you to sound more confident. They will also allow you to see yourself through the eyes of your interviewer. When watching yourself, think, "If I were interviewing me, would I hire me? Why or why not?"
References
Before you are hired, you will almost certainly be asked for a list of references to confirm the kind of employee you are. To prevent them from being caught off-guard, make sure you give your references a heads-up that someone may be in contact with them. You may also want to give your references some background information about the job you have applied for and why you think you would be a good fit. This will help them frame their answers to any questions your potential employer might have regarding your strengths relative to the job opening.
Preparing for Your First Interview
The right preparation is essential to any job interview, not only to do well at the interview itself, but also to lessen the stress you might feel going in. By keeping the Three R's of Interviewing in mind, you can get yourself ready for your coming interview and, with any luck, earn your first position in the healthcare industry. Armed with these tips for interviewing for entry level healthcare positions, you can be well on your way to getting that essential first job in the field.