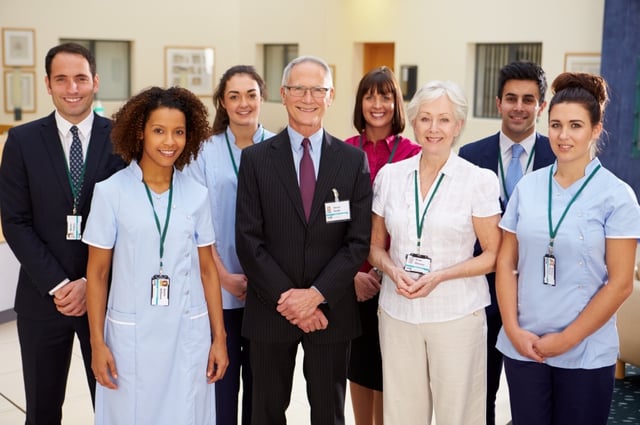 Updated May 6, 2022
For new high school graduates and midlife career-changers alike, starting a career in healthcare can be rewarding and competitive. However, certain fields and positions require unique certifications and training.
If you are considering starting a career in healthcare, you may want to take a realistic assessment of your lifestyle, career interests, and personality type to help guide you to the most fitting position. The following post will outline seven questions to ask yourself before starting a career in healthcare.
1. Which part of the healthcare field are you interested in?
The healthcare field offers a wide variety of career choices. It's important that you honestly ask yourself how you would like to spend a majority of your days — in direct contact with patients, playing an administrative role, or working independently. There are careers that match each of these descriptions, for example: Respectively, they include certified optician assistants, patient access specialists and certified medical coders, to name just three. Each role plays an integral part in healthcare and affects patient care, directly or indirectly.
2. What are the requirements for entering this field?
Once you decide where you would like to focus your energy, it's important to determine what the requirements are for entering your specific field.
Depending on which path you choose, you may need to…
Take prerequisite courses
Complete an internship/fieldwork
Complete a background check and drug screen
Provide proof of high school completion or a GED
Complete your CPR certification
Provide other passing test results
Please note that health science programs are closed to anyone with a criminal felony record.
3. Do you need more schooling?
Some healthcare job roles require additional schooling in order to enter your chosen field. For example, if you would like to become a Certified Nursing Assistant (CNA), but would like to work in a hospital or acute care setting, you need CNA 2 level certification which requires additional education to obtain advanced skills.


4. Do you have any prerequisites that would apply?
Have you already taken classes or worked in a setting that would allow you to enter your field of choice? If you would like to find out if your prerequisite courses, certifications, or experience(s) would qualify you for a chosen program of study or take you straight to a healthcare job, contact your local college for clarification.
5. Do you need any certifications to activate this career?
Many healthcare careers require testing, certifications, and lifelong continuing education upon completion of your education. While many of the courses offered through PCC's Institute for Health Professionals are dedicated to helping prospective healthcare workers prepare for and pass their certification exams, many of these have an expiration date of which you should be aware.
6. Are you aware of the time requirements/hours of your chosen field?
Researching the hours required for your coursework, studying for certification exams, and your job is integral to choosing your field. Many healthcare jobs require long and demanding hours — they often aren't your typical 8-5 jobs. You may need to work nights, weekends, and holidays.
7. What is your expected salary/pay range?
Think about your lifestyle and decide if your field of choice will offer you value, quality of life, and a high return on your investment. Researching salaries will help you determine if a healthcare job will fit your desired lifestyle and needs.
Healthcare careers demand time, energy, and dedication. Take time to decide which path is best for you.