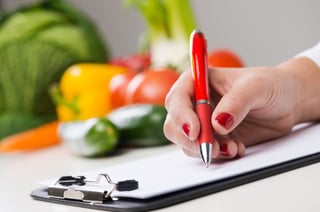 "Let food be thy medicine and medicine be thy food." — Hippocrates
This idea that food should be our medicine is not a new one. In fact, it is the cornerstone of a modern day nutritionist's work. The role of a nutritionist is to help prevent disease and promote good health by encouraging an active lifestyle combined with healthy eating habits.

March has been designated as National Nutrition Month. This year's theme, "Savor the Flavor of Eating Right," is aimed at encouraging mindful eating—the practice of being aware of how, when, why, and where we eat—while choosing nutritious and flavorful foods. In this post we're going to discuss how nutritionists are improving health through changed diets, lifestyle habits, and attitudes. Curious to learn how you can become a nutritionist? Explore the Functional Nutrition program at the PCC Institute for Health Professionals.
How Nutritionists Improve Health
Encourage Healthier Eating Habits
Nutritionists use a scientific and food-based approach to evaluate an individual's eating habits and to create a personalized dietary plan. As a nutritionist, you will guide your clients toward eating fresh, natural foods, and offer accompanying education to further promote healthy eating.
Help People Achieve Health and Weight Loss Goals
Nutritionists help create individualized meal plans for improved weight, mood, and energy. Family meal planning is often part of a weight loss plan, as well. In addition to meal planning, a nutritionist may also suggest basic wellness supplementation to assist a client in achieving health and weight loss goals.
Implement Behavioral-Change Modifications and Dietary Approaches
The underlying behaviors that affect healthy lifestyle choices also need to be addressed and modified. A nutritionist can help a client identify destructive eating habits and help implement a healthier dietary plan. In addition, a nutritionist can assess a client's level and choice of activity and make appropriate modifications based on individual needs and goals.
Suggest Ways to Improve Lifestyle and Manage Stress
Nutritionists also teach classes on wellness and holistic nutrition to help clients improve their lifestyles and manage daily stress.


Work with a Licensed Health Care Provider
Nutritionists do not practice medical nutrition. They also do not diagnose or treat diseases. When a client has medical issues, a nutritionist will refer him or her to a licensed physician.
Career Opportunities
As a certified nutritionist, there are a variety of nutrition-based career paths you can take:
Nutrition and wellness consultant

Nutrition coach

Food or supplement salesperson

Nutrition and wellness writer

Wellness center specialist

Weight-loss center specialist

Health food and nutrition retail store management

Nutrition and wellness instructor
Nutritionists work in a variety of settings, including hospitals, retail establishments, and public, or private fitness centers. After completing the required education–this varies according to the state you reside in and the career path you choose–you can then choose the setting where you would like to work.
As a nutritionist, you will be offering inspiration and encouragement to clients as they begin their journey towards health. As clients begin to understand why they need to make better food and lifestyle choices, you can encourage them to go beyond their goals and permanently alter how they approach their health.
Learn from anywhere in the world! Click on the image above to learn how you can take our Functional Nutrition program from the comfort of your own home!