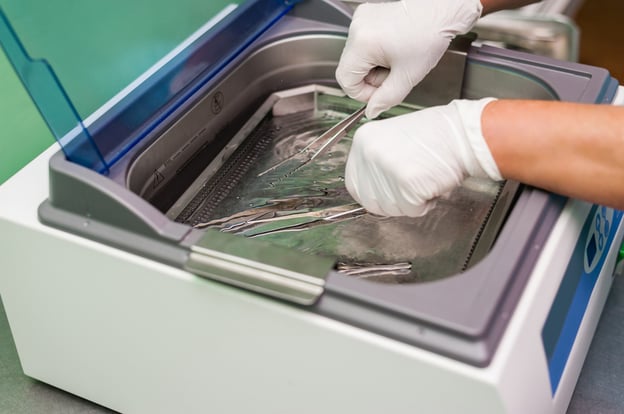 Hospitals and other clinical care facilities can only operate because they maintain meticulous attention to cleanliness. People expect hospital spaces to be clean to prevent complication risk due to exposure to outside bacteria or viruses.
As a result, healthcare settings employ Sterile Processing Technicians who are very well versed in how to completely, carefully, and quickly sterilize clinical spaces to be ready for use by another patient. For people who are naturally clean and sanitize every surface in their home, this can be a natural fit as a career. It is a rewarding chance to do good with your natural tendency toward cleanliness and an opportunity to enter the healthcare field with only a short training program.
Let's look more in-depth at the role of becoming a Sterile Processing Technician and how a one-term training course can jumpstart a career in the healthcare field.

Sterile Processing Technicians: The Day-to-Day
Sterile Processing Technicians need thorough attention to detail and the ability to follow clear processes so that no part of a medical environment becomes contaminated along the way. Cleaning and sterilizing vital portions of any given environment require the ability to follow directions and be an independent worker, not needing to be constantly directed by a boss.
You'll need to know who to talk to if you find something outside of your typical purview while processing medical environments. You'll be building relationships with the staff who use your areas, establishing trust, and learning the ins and outs of what they need when it comes to sterile equipment. It also involves understanding what kinds of cleaning products to use on each surface, as some could cause damage.
People who enjoy cleaning, following a prescribed procedure to the letter, and helping people will find Sterile Processing Technician work fulfilling. It's the kind of work that, once mastered, can allow you to feel comfortable and in a flow state at work. At the same time, a variety of jobs in this field pay well, with Oregon SPT workers making between $37,000 and $60,000. Some of the pay increases are due to managerial roles, while others are for more complex sterilization environments where the stakes are exceptionally high and require perfect cleanliness.
How the PCC Coursework Helps You
While some technicians do learn this role on the job, it's infinitely better for one's confidence to learn during a one-term, affordable course that includes 42 hours of self-directed study and hands-on training in a hospital setting. At Portland Community College, you can develop a comprehensive overview of infection control and prevention, helping you to see why medical environments value sterilization and cleanliness so much. You'll learn the distinctions between decontaminating and disinfecting, cleaning versus sterilization, helping you know what levels of attention and what kinds of cleaning products work in different contexts to balance the need for cleanliness with efficiency and cost control.
You'll learn about managing your inventory of cleaning products while also managing and updating how you distribute one-use supplies to operating rooms or other medical environments. Since medical professionals you work with will rely on you to keep them well-stocked with fully sterile items for their patients, you'll learn about the instruments for things like surgery and how to store them properly. Finally, you'll get some basic microbiology, medical terms, and anatomy lessons that will give context to the communication you'll have with nurses, doctors, and other professionals. 
Even if you have a background in healthcare, the overview and the practice involved in this course will make the process of transitioning into a Sterile Processing Technician role smoother and keep the most relevant information fresh in your mind. The self-directed portion of the program also helps you work while studying, which can smooth a job transition or launch your entry-level healthcare jobs. 
Healthcare Professionals Expand Their Skills at PCC
While working as a Sterile Processing Technician is a job with upward mobility, the demand for these jobs is likely to grow along with an aging population. The position isn't solely for those looking for entry-level health care jobs. If you're working in an area of healthcare and want to expand your skills and work your way into a different role, adding skillsets can help boost your marketability to employers. The Institute for Health Professionals offers a variety of skill-building coursework that enables you to enter new parts of the healthcare industry and makes you a more versatile team member wherever you are, increasing upward mobility further. Learn more about PCC's offerings today!