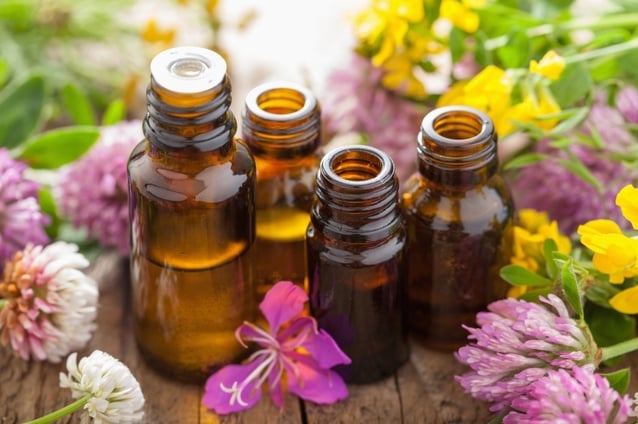 Most of us love the summer, the beach, and…the sun. What we don't like is sunburn. Not only is it painful, but sunburn causes serious long-term tissue damage. Enter Saint John's Wort. You've heard of this peppy yellow flower for depression, but did you know it has potent burn healing properties? Long before this remedy became the natural medicine de jour for mood, Europeans were grabbing it as their main go-to for burns, including sunburn. Take my advice, and don't get burned in the first place, but if you do, use a high quality St. John's Wort oil. Pharmacological research supports the topical preparations for the treatment of minor wounds and burns, sunburns, abrasions, bruises, contusions, ulcers and muscle pain.
Can You Use St John's Wort Oil On a Burn?
The constituents naphthodianthrones (e.g., hypericin) and phloroglucinols (e.g., hyperforin) have interesting pharmacological profiles, including antioxidant, anti-inflammatory, anticancer, and antimicrobial activities. Hyperforin also stimulates growth and differentiation of skin cells (keratinocytes). Recently, occasional trials have been conducted in wound healing, atopic dermatitis, psoriasis, and herpes simplex infections. One study found a combination of St. John's Wort and neem is effective for kids' burns. A 2015 report indicated that applying SJW ointment four times per day healed burns better than a burn drug.
Is St John's Wort Safe to Use On Skin?
St. John's Wort is safe to apply topically after a burn. It may cause sun sensitivity when taken orally, so, for an abundance of caution, do not expose yourself to excess sun if you are taking it.
What color is St John's wort?
The active ingredients in SJW are red, so a properly made oil will be deep ruby red. For best results, seek out the best quality.
Should I take vitamin D if I get sun?
The sunshine vitamin may also help when you cook yourself in the sun. According to a recent study, high doses of vitamin D taken one hour after sunburn significantly reduce skin redness, swelling, and inflammation. In research from Case Western Reserve University School of Medicine and University Hospitals Cleveland Medical Center, 20 "sunburned" subjects were given either a placebo pill or 50,000, 100,000, or 200,000 IU of vitamin D one hour after getting an intentional small UV lamp burn on their inner arm. Seven days later, skin biopsies were collected and analyzed. Subjects who took the highest doses of vitamin D scored the biggest benefits, including reduced skin inflammation 48 hours after the burn. Those with the highest blood levels of vitamin D had less skin redness and the greatest boost in skin barrier repair.
"We hypothesize that vitamin D helps promote protective barriers in the skin by rapidly reducing inflammation," said lead author Kurt Lu, M.D. "What we did not expect was that at a certain dose, vitamin D not only was capable of suppressing inflammation, it was also activating skin repair genes." The amount of vitamin D in the trial far exceeded the RDI of 400 IU. The researchers thought that the effects were promising and worthy of further study, though. The doses used are consistent with cutting edge clinical uses in modern alternative medicine.