Settlemier's Award Jackets is a Portland staple that's been serving the Pacific Northwest since 1990. In 2022, third generation owner and operator Aaron Settlemier became part of the Advanced Small Business Management cohort through the PCC Small Business Development Center. Throughout the 10-month business training program, Aaron says he and his team have "realized new ways to access capital, revamped our business manuals, developed systems that separate the business from a single person (the owner), and made more precise and professional short-term and long-term goals." This is Aaron's story.
Read more about Aaron's entrepreneurial experience below!
Thanks for sharing your story with us, Aaron. Tell us little about your business, and what you love about it.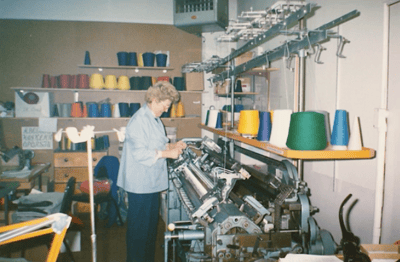 Being a third generation family owner, inspiration came from my parents' and grandparents' hard work in this industry. Making things—manufacturing—is an extremely satisfying endeavor. Especially for our main product, the varsity lettermen jacket, which is a very personal and emotionally product. I get to meet many of the people who wear our jackets and their families. The jackets tell a story, and they are built to last generations so the story lives on. Walk into most vintage stores and you can find one, and in small ways you can understand who it was for and what they did during that time. This is easy to love, and makes a lot of the extremely hard work all worth it.
Photo: Dorothy Nelson, Aaron's Grandmother, is working at a knitting machine. The machine she is working on makes the cuffs, collars, and waistband material, and the machine in the picture is the very same one used at Settlemier's today.
Before coming to the SBDC, what challenges were you facing in your business? How did the SBDC help you overcome these challenges?
Covid-19. A name worth a thousand words for business operators. The challenges were
everywhere, and they were big, and they came all at once. Then I was accepted into the Advanced Small Business Management course and the program taught us a lot about how to grow our business in the right way, and where to focus our energy when tackling specific tasks. We have realized new ways to access capitol, revamped our business manuals, developed systems that separate the business from a single person (the owner), and made more precise and professional short-term and long-term goals. Operating the business more professionally and deliberately has been the main change since working with the SBDC. Having clearer motivations when we begin processes, and clearer end-goals that serve the company are also part of the change we've seen. The program has given us the educational tools to work through daily/monthly/yearly operations in a simpler, more professional way. Now, b
usiness is stable, which is a word I haven't used in 3 years. Profit margins are up, spending is more balanced across resources (we have two new equipment financing loans), and our company policy manuals are up-to-date!

What would you say to other small business owners thinking of working with the SBDC?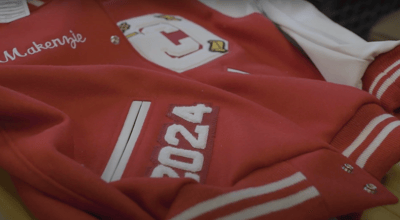 Having run a business for many years without formal education in the field, the program gave
me invaluable knowledge which really cleared my head and helped me see my business and the interworking from a better, more stable and rational place. It seemed as though every month's course was dealing with an issue my business was facing, and I could implement the knowledge and tools immediately with successful results. Having access to the knowledge base and being able to seek assistance was really helpful.
---
Want to learn more about how the PCC SBDC can help you start or grow your business?
---


Programs and services are provided to the public on a non-discriminatory basis. Language assistance service are available for limited English proficient individuals. Reasonable accommodations for persons with disabilities will be made if requested at least two weeks in advance. Please contact us at 971-722-5080 or sbdc@pcc.edu, to request accommodations. Oregon Small Business Development Centers are funded in part through a cooperative agreement with the U.S. Small Business Administration, and the Oregon Business Development Department.