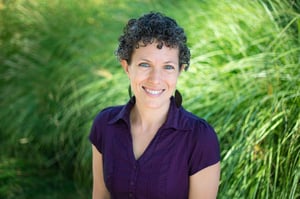 Sasha Scamarone is a board-certified acupuncturist licensed in the state of Oregon and is a graduate of the National University of Natural Medicine in Portland, Oregon. Sasha runs an acupuncture practice out of the Therapeutic Associates Physical Therapy office in Lake Oswego, Oregon. In 2017 she participated in the PCC SBDC Small Business Builders Program.

What inspired you to start your business? I have a strong desire to make a professional living doing what I love – helping people overcome health challenges and achieve optimal health with acupuncture and other Chinese medicine therapies. I had already gained significant clinical experience working in a variety of clinical settings as an intern, employee and independent contractor, but I increasingly wanted to create a business that was uniquely my own. My business coach at the SBDC has been a steadfast and encouraging inspiration in helping me to realize this dream.
Before coming to the SBDC what challenges were you facing in your business? In the past I had always been an employee. Business ownership really was a paradigm shift for me because most people in my community (family, friends and acquaintances) are employees. I was brought up by parents who had stable jobs working for large, professional organizations, so my career model always involved having a "job," not owning my own business. This was a huge barrier to becoming an entrepreneur. It was a gradual and challenging process for me to shift my mindset from that of employee to one of entrepreneur. The idea of starting my own business seemed like an unattainable goal and I felt very isolated and overwhelmed trying to figure out what steps I needed to take to launch and manage a small business. I also had not found an adequate and affordable space to start my practice. An additional barrier was that I really struggled with the idea of marketing my services and had a lot of negative ideas about marketing.
What types of services did you receive and/or in which programs did you participate? I have received ongoing one-on-one business mentoring at the SBDC and professional market research through the Southern Oregon University Market Research Institute. I also took the Small Business Builders class in Fall of 2017 and continue to meet with my Advisor for support and guidance.
How has the services or programs helped you overcome your challenges? My small business coach, Dr. Sean Harry, has been an invaluable mentor. He is very knowledgeable, compassionate and non-judgmental, and always helps to connect me with pertinent resources. Taking the Small Business Builders class was extremely useful for several reasons. First, it helped me to adopt an entrepreneurial mindset and gave me clear focus areas and templates for starting a business. I finished the course with a wealth of information that I know I will consistently return to. Secondly, it was inspiring and empowering to be with a group of people who were all emerging business owners and share this process together. Finally, the class helped shift my thinking on marketing – it helped me to view marketing as a creative and adventurous aspect of small business development, rather than an unpleasant, but necessary, task.
What have you done differently in your business since working with the SBDC? After taking the Small Business Builders class, I feel I have a small business foundation to draw on, specifically regarding the knowledge I need to manage my own business.
How is your business doing now? My business has been growing gradually since I started seeing patients in private practice this past July. I was initially seeing 6-8 patients weekly, but have been seeing 15-20 patients over the past month and hope to continue growing my patient base in the coming months so that my business can be fully sustainable.
What would you say to other small business owners thinking of working with the SBDC? I have highly recommended the SBDC to other emerging small business owners. The SBDC instructors are excellent, seasoned business and academic professionals. I appreciate the variety of courses offered by the SBDC for entrepreneurs in different phases of their small business development process, and with different small business focus areas.
What is your favorite Sport to watch? To Play?
I like to watch the World Cup soccer games. I enjoy practicing yoga, salsa dancing, and taking brisk nature walks.
If you could only eat one food or meal for the rest of your life, what would it be and why?
Tie between homemade Peruvian empanadas and ceviche.