Rock Dojo is an award-winning, Portland-based guitar program for kids. Since 2015, more than a thousand elementary school students have learned to play guitar in Rock Dojo's after-school programs and online classes! Since working through the PCC SBDC Advanced Small Business Management training program, co-owner Brian Parham has garnered increased student retention, additional business funding, and a new perspective on how to strategically grow his business. This is Brian's story.
Read more about Brian's entrepreneurial experience below!
Thanks for sharing your story with us, Brian! Tell us a bit about what inspired you to start the Rock Dojo.
I created the Rock Dojo to share my passion for playing rock guitar with Portland's kids. Learning to play the guitar changed my life. It taught me how to create a vision, set short and long-term goals towards that vision, and show up day in and day out to achieve those goals. That's why I believe learning to play guitar is so valuable for today's kids because those same skills—vision, goal-setting, and discipline—can help students succeed in music and in life.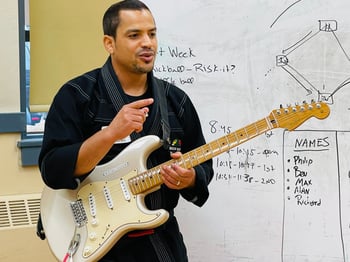 Right now, I'm writing a metal meets martial arts musical for children. This story is about a pair of siblings in a dystopian future who must learn to work together to defeat a wicked god of metal music. In the process, they must brave three dangerous worlds to recover a magical book and save their ravaged homeland. I was one of eight Portland-based black artists to win an IFCC Artist-in-Residency, and this musical entitled Elijah & The Sacred Song will culminate my residency.

What challenges do you face in your business?
My biggest challenges are time management and marketing. I struggle with time management
because I was wear so many different hats. For example, I was finishing my advanced professional certification at Berklee College of Music, writing this musical, teaching classes, and
running the Rock Dojo as I worked through the SBDC Advanced Small Business Management training program. I also struggle with marketing because after-school providers cannot market directly to PPS students and families for equity reasons, which makes growing the Rock Dojo after-school program particularly challenging.

What types of services did you receive from the SBDC?
I enrolled in the SBDC Advanced Small Business Management training program, which included one-in-one monthly meetings with Sean Harry and monthly Zoom classes, which were great! Since then, I've successfully relaunched the Rock Dojo after-school programs after a two-year break during COVID, launched a series of concerts to help market the after-school programs, and secured funding and space for the upcoming Rock Dojo musical.

What have you done differently in your business since working with the SBDC?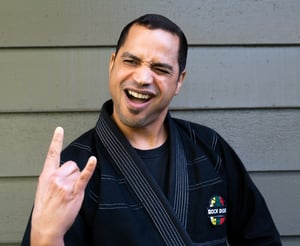 I focus on the most important tasks that bring me the biggest results. Plus, I changed the way I
communicate with the parents of my after-school, which has had a positive impact on student retention. This has helped us received funding to create a metal musical for kids, which I'm really excited about because it's a great marketing vehicle. Plus, I'm creating a brand new genre of metal music that's family-friendly, socially-conscious, and story-driven. In short, I can't think of a better way to motivate kids to pick up the guitar.

What would you say to other small business owners thinking of working with the SBDC?
The PCC SBDC rocks! Contact your local office today and schedule a meeting.
---
Want to learn more about how the PCC SBDC can help you start or grow your business?
---


Programs and services are provided to the public on a non-discriminatory basis. Language assistance service are available for limited English proficient individuals. Reasonable accommodations for persons with disabilities will be made if requested at least two weeks in advance. Please contact us at 971-722-5080 or sbdc@pcc.edu, to request accommodations. Oregon Small Business Development Centers are funded in part through a cooperative agreement with the U.S. Small Business Administration, and the Oregon Business Development Department.