2019 graduate of the PCC SBDC Restaurant Builders program, Robert Greenup, has been obsessed with Ramen since he was a child. When he made a trip to Japan to visit family, he experienced delicious Mutekia Tonkotsu Ramen and spent the next year feverishly trying to replicate it. After that he decided to begin making his own noodles. One thing led to another and his restaurant Baka Umai (Japanese for "stupid delicious") was born. This is Robert's story.
Robert, what inspired you to start your restaurant, and what do you love most about it? I had spent a long time in the corporate world and knew that I wanted to do something that I wanted to build from the ground up. My obsession with ramen and the opportunity to open a restaurant seemed like the perfect marriage.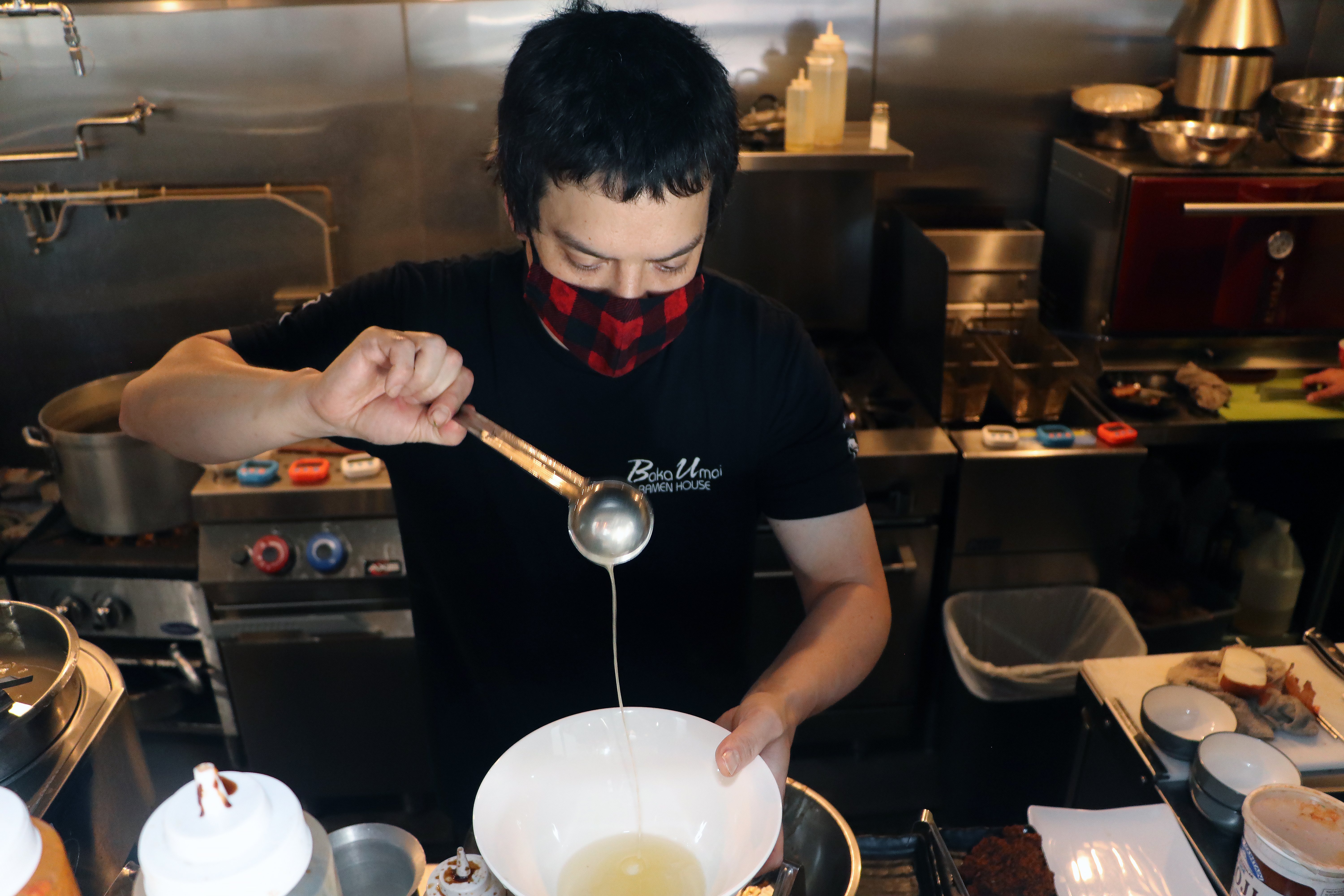 I have always been obsessed with ramen ever since I was very young. I'd eat ramen for breakfast lunch and dinner. Once I tried Mutekia tonkotsu ramen in Tokyo in 2016, I became obsessed to learn how to make it. I spent over a year making a batch every weekend until I got it dialed in. I then learned how to make my own noodles. The most exciting thing about the restaurant is being creative and releasing new ramen each month. Some recent ramens we've released as specials include: lamb, barbacoa, ceviche, soyrizo (vegan chorizo), and various spicy ramens including habanero, ghost pepper, and Carolina reaper pepper. The thing I love most (besides working with my family) is interacting with happy and pleased customers. It really makes my day when people love the food we serve here at Baka Umai.
Which program did you participate in at the PCC SBDC, and what types of services did you receive? I took the Restaurant Business Builders program in the spring of 2019. The SBDC helped lay a clear path on how to start a restaurant business by providing insight, expertise, and contacts within the industry. Everything from laws/permits/regulations to marketing/branding. It was all very important. The experienced speakers highlighted the pitfalls and successes that every restaurant owner encounters. I used referrals from the speakers that included a lawyer (reviewed and modified the lease), a business loan (Craft3), as well as resources from restaurant owners (pricing sheet, vendors, etc).
How has the COVID-19 pandemic impacted your business? We spent a lot of time making sure that our food was portable and had good enough quality for takeout. We've made many strides to make our operation more streamlined and efficient. I have not been able to hire many people due to the customer variability, so I've had to work 100+ hours every week.
What are your plans moving forward as the state of Oregon goes through the process of reopening? We need to hire and train people to make sure we can keep up with demand without missing a beat. We also plan on expanding our menu to offer more options.
What would you say to other small business owners thinking of working with the SBDC? Use them! They are an invaluable resource! The guidance they provide will make your life so much easier.
---


Programs and services are provided to the public on a non-discriminatory basis. Language assistance service are available for limited English proficient individuals. Reasonable accommodations for persons with disabilities will be made if requested at least two weeks in advance. Please contact us at 971-722-5080 or sbdc@pcc.edu, to request accommodations. Oregon Small Business Development Centers are funded in part through a cooperative agreement with the U.S. Small Business Administration, and the Oregon Business Development Department.