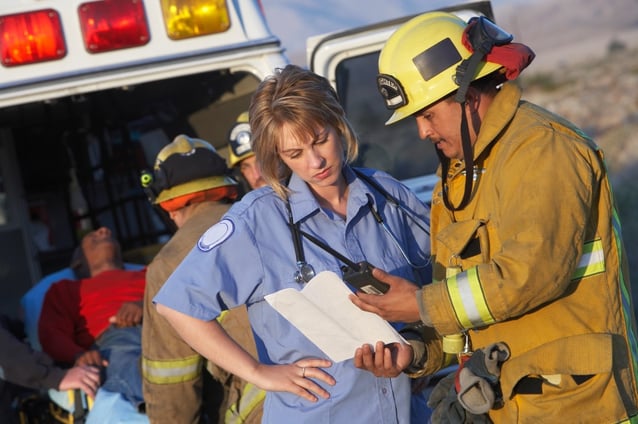 As an industrial or remote medic, job opportunities are plentiful worldwide in various industries. Your extensive training and real-world experience can open the doors to many types of work in tourism, industrial locations, third world countries, relief organizations, and more. This post will discuss where you can work and how to find work you're passionate about.
Where Remote and Industrial Medics Work
Tourism
You may not think your skills are necessary in the tourism sector, but safety always needs to be first in this industry. For example, remote medics are needed at amusement parks and other similar entertainment establishments to provide basic and advanced life support to guests and employees who are in need of medical care. Medics are also needed on cruise ships, at hotels, and for beach tourism. Wherever the safety of guests and employees is involved, an experienced remote medic is needed.
Industrial Locations
Industrial medics can use their advanced training in exploration, construction, and operations around the world. As an industrial remote medic, you can work in mining, drilling, occupational health, on an oil rig or seismic vessel, and in firefighting.
Relief Work
Remote and industrial medics have many opportunities to work in third-world countries participating in the above-mentioned jobs. You can also work as a backpacker medic, and transport your medic skills on-foot to provide treatment to people in third-world countries and rural or remote communities to engage in humanitarian work.
Another area for work that demands a medic's skills is during times of natural or health-related disasters. As a disaster medic, your skills are desperately needed and sought after to provide treatment to victims and support to other medical and government staff. Remote medics working in disaster zones are able to provide pre-hospital care to victims worldwide. You will also have the opportunity to train local volunteers in basic first-aid.
Worldwide Charity Expeditions
International charity expeditions are a great way to experience life-altering work as a remote medic. You will be responsible for ensuring the health and safety of program volunteers as they work to reach vulnerable populations to provide safe drinking water, protect vulnerable environments, and build more resilient communities.
Where to Find Work
The following resources will assist you in finding meaningful remote and industrial medic jobs:
Recruiters
Recruiting agencies can link you directly to job opportunities around the world. Agencies are often listed by country to help you target your preferred locale.
Safety/Industrial Companies
Recruiters in the gas, oil, and mining industries also provide valuable employment opportunities. Safety and industrial companies seeking medics include:
Relief Organizations
Relief organizations and non-governmental organizations (NGOs) are always looking for remote medics to provide aid during natural disasters and to help build strong communities. Relief organizations seeking medics include:
Hospitality Organizations
The hospitality sector utilizes medics to provide medical treatment to guests and employees in the event of illness and injury. Medics also have the opportunity to provide education and promote healthy living at health fairs, wellness programs, and other similar events. The hospitality organizations seeking medics include:
Job Websites
A quick search of the internet can turn up a few resources for remote and industrial medic jobs:
You can also download our cheat sheet of remote medic employers to further assist you in your job search.
With the abundance of job types, locations, populations to work with, and employment resources available to you, your dream job as a remote or industrial medic is within reach. The PCC Institute for Health Professionals' Remote and Industrial Advanced Medic Program (RIAMP) can provide you with the advanced medic training you need to work around the world in complex, remote, and atypical environments.