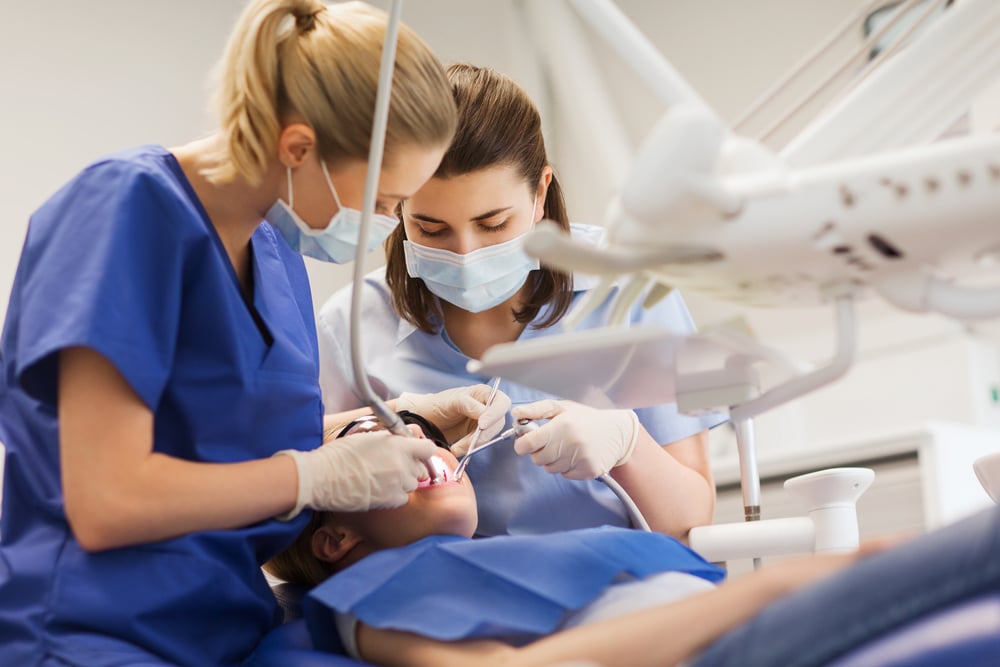 There will always be perks and drawbacks when you choose to pursue a new career, be it for the first time or as you're switching industries. Any career counselor would tell you to choose a career based on your preferences and aversions. For instance, if you have always struggled with and disliked math, choosing an actuarial or accounting career could make your day-to-day challenging. If you've been holed up with a calculator doing equations for fun throughout your youth, it might be the perfect fit.
Like with any other profession, it pays to know what your preferences and tolerances are before you consider training to become a dental assistant.
There are many pros to working as a dental assistant, but you should also seriously consider your preferences and tendencies before choosing it. Luckily, Portland Community College makes it easy to take affordable courses and can teach you the basics of becoming a Dental Assistant. 
The Promising Facts of Becoming a Dental Assistant
There are many benefits of being a dental assistant that are worth considering, of which these are just a few:
Dental assistants are a growing field. The Bureau of Labor Statistics reports 11% growth in the next few years, an astronomical rate that indicates a strong job outlook after completing your training. 
Comprehensive training at PCC only takes nine months, so you can complete your training and become certified in less than a year.
Taking portions of the coursework online offers flexibility and keeps costs down for Portland Community College, which passes on that savings to you in the form of affordable tuition.
Average salaries after training are around $41,180 a year, a great rate of return on an affordable educational investment. 
Additionally, there are numerous reasons why the work of a dental assistant might be right for you:
Your work helps people directly with their dental health, and you get to become a very valuable member of a dentist's team.
The work is active and may have you in both the office work setting, creating records and taking payments, and in the clinical setting, cleaning equipment, taking x rays, and much more.
A varied day is a big part of the draw of this career and the steady work.
Dental offices can be a great place to work: since many dentists own their practices, the team tends to be small and close-knit, and ideally, dentists prefer to keep employees for the long-term, creating stability and consistency.
If you want to pursue additional training to develop your career as a dental hygienist or another role within a practice, it will be easier to do so after having seen the inner workings of dentistry. 
Personality Preferences to Consider Before Becoming a Dental Assistant
Like all jobs, there are some negatives to working as a dental assistant. However, the ability to tolerate these factors depends on your personality and experience. Consider these before deciding to pursue this field:
Feeling a strong aversion to germs, even when health precautions are in place makes you a poor candidate for any work that brings you into contact with patients' mouths, like dental assisting.
There will be the occasional gross situation or cleanup needed involving blood, pus and other bodily fluids, so the more squeamish among us may not be the right fit for the role.
Dental assisting is also a very detail-oriented job, which can be challenging if you've never had strong organizational skills in your prior experiences. There will be days where you'll conduct repetitive, tedious tasks, like organizing stock or putting in patient records.
Some elements of any job will be unpleasant, of course, but it's wise to know that if you are particularly squeamish, disorganized, or need constant variety, working or training as a dental assistant might not be a perfect fit. 
Choose PCC to Get the Benefits of Becoming a Dental Assistant
The great thing about taking coursework at Portland Community College is that even our longer, more in-depth degree and certification programs aren't four years of commitment. Even reading about dental assistant pros and cons shouldn't intimidate you since you have many options.
In many cases, if you aren't sure what you want as your vocation, you can take a course or two to get your feet wet for an affordable rate, learn what is available, and get to know a knowledgeable instructor. If you realize that, for instance, Dental Assisting is the right fit, you can move forward with confidence.
You also benefit from using PCC if you are retraining or adding certifications to your prior educational experiences. Many of our programs can be taken alongside other part-time and full-time employment, with intensives for the in-person components and virtual evening classes for most classwork.
This structure allows you to continue your current career until you complete your training to switch, smoothing the process significantly since very few of us can easily take a year off work to change industries.
To get to know PCC's Dental Assistant program further, check out the website and explore the rest of Portland Community College's catalog as well!