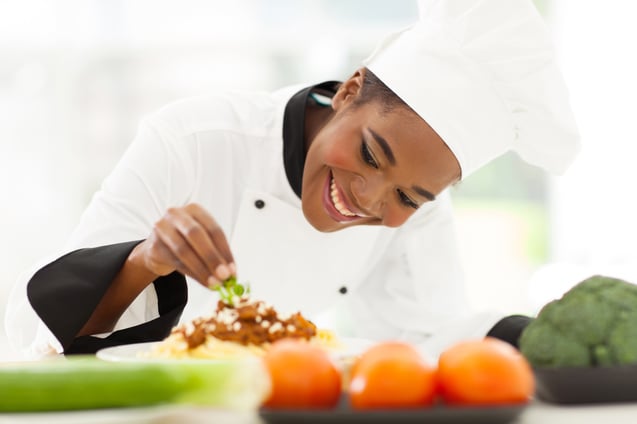 Making the leap towards pursuing your dream of running a restaurant, or food cart, or breaking into the food service industry takes a lot of hard work, patience, preparation and planning before you even hit the "start" button. The competitive industry requires a steadfast focus for all of the aspects that come with running your own business. You must prepare to face unexpected challenges, and learn how to become a master marketer. When you're prepared to take the next step in making that restaurant goal a reality, take a look at the "Restaurant Business Builders" program offered by the PCC Small Business Development Center. The program offers step-by-step assistance to help you understand the breadth of the coordination and planning required when running a successful restaurant business.
No matter where you are in your journey as a restaurant owner, the PCC SBDC can help you develop processes and protocols to help your business thrive in challenging times, whether you're just starting out, or you need to safely reopen your workplace, recover lost business, and implement practices to sustain the recovery.
STARTING POINT
Our Restaurant Business Builders Program reiterates the easy-to-overlook fundamentals while drilling down into the experience offered by local and regional experts. This specialized course covers branding, marketing, money management, raising capital, hiring, and managing employees. By the end of the course, you'll understand fully how to operate and run the front and back of the business. Not only do you get a great sense of how to build your business and make it successful.
PROGRAM BREAKDOWN: CHALLENGES AND BENEFITS
Each session is jam-packed with valuable information for launching your own business or helping it grow. Topics include:
Branding - Discuss how a brand can impact the success of a foodservice operation. Learn how it can separate your business from the rest by being unique and standing out.
Menu Design - Whether your menu ideas are extensive with a variety of choices or specialize on a few treats for customers to enjoy, you'll learn how to make a menu that helps showcase what your restaurant offers.
Restaurant Design - Looks go a long way. Learning how to design your restaurant for comfort while maintaining space for incoming consumers can be difficult. You want to find that balance between being aesthetically pleasing and productive.
Leasing Processes and Location Selection - Finding the right location might be the lengthiest process and requires precise mathematical calculations. Sometimes it's short and sometimes it takes years. However, you'll learn proper leasing processes and how to negotiate with landlords. This topic will assist in ensuring you don't overspend with your budget or get caught in a problematic contract.
Marketing - You'll learn ways to market your services to other businesses and potential partners on top of the consumers you're serving.
Additional topics are covered to allow each student the best opportunity at building a successful restaurant business - visit the Restaurant Business Builders page at PCC to see the entire 10-week schedule for the program.
BUSINESS PLAN
Throughout the program, you'll find all the right tools to prepare you for running a restaurant business. Additionally, you'll create your very own business plan.
Leslie Hidula confirms that one common challenge students and entrepreneurs face is liquidity - or acquiring the funds needed to keep a business running as it grows. The Restaurant Business Builders class provides assistance in writing out the business plan to use for loan applications as well as budgets and realistic expectations.
Regardless of your current experience, if you're dreaming of running your own restaurant, take the leap and start chasing your business dreams with us at Portland Community College. Speak with one of our no-cost advisors to learn how our Restaurant Business Builders class may help prepare you for the challenging and unexpected situations that your restaurant may face. Learn the basics, the essentials, and how to master it all.