Portal Adventures Beaverton: The Small Business That's Pushing Boundaries in Live Entertainment
In this video, the Portal Adventures team describes their journey and the support provided by the PCC SBDC along the way. Read more below:
Portal Adventures Beaverton offers intricately themed and exhilarating escape room adventures. This family-owned venture, founded by brothers Benjamin, Anthony, and Chris Tokatly, aims to challenge and entertain through immersive experiences. In addition to their escape rooms, they have recently introduced The Portal Lounge, a uniquely themed space where guests can relax and enjoy custom cocktails while observing other parties tackle the escape room challenges. In developing this new portion of their business, team member Shannon Locke participated in the PCC SBDC Restaurant Business Builders training program, walking away with brand-new knowledge and critical industry relationships.
Finding Inspiration
For Benjamin, Anthony, and Chris, their inspiration for creating live-action entertainment experiences originated from their god grandfather, Don Edgrin, a former lead Imagineer at Disney. Growing up around his creative influence and passion for designing roller coasters and themed games, they developed a deep interest in constructing custom live entertainment. This experience laid the foundation for their journey into the world of escape rooms, constantly pushing the boundaries of the genre and incorporating new technologies to enhance the guest experience.
Challenges Faced
Before seeking assistance from the PCC SBDC, the team at Portal Adventures Beaverton faced the significant challenge of spreading the word about their new location. In addition, the team was undertaking a whole new kind of business: food and drink service. To overcome their challenges, the team enrolled in the PCC SBDC Restaurant Business Builders training program, which provided them with valuable insights and resources and the opportunity to connect with Chef Cory Schreiber, whose expertise and guidance were instrumental in their success.
Milestones Achieved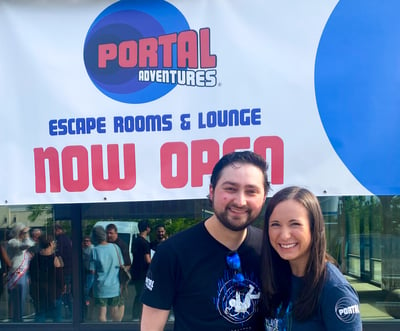 Portal Adventures has grown substantially since its inception in 2017 in Springfield/Eugene. With the establishment of their Beaverton location, they have continued to raise the bar (literally). Working closely with the PCC SBDC, Portal Adventures Beaverton achieved a significant milestone by successfully creating and launching The Portal Lounge. This expansion into a new offering required collaboration with industry professionals and a huge operational undertaking.
Advice for Small Business Owners
The story of Portal Adventures Beaverton exemplifies the power of imagination and creativity in the world of live entertainment, in addition to the grit and passion of small business owners. Their dedication to pushing the boundaries of the escape room genre, coupled with support from the PCC SBDC, has allowed them to overcome challenges and achieve remarkable milestones. As they continue to grow and improve their services, they inspire other small business owners and encourage them by saying, "Making connections with others in the business community is invaluable. It is imperative you surround yourself with talented people so that you can continue to hone your craft and create a better and better product or service. Our success could only have been achieved due to all the wonderful people we have partnered with, including the PCC SBDC."
Visit Portal Adventures Beaverton's website to embark on a thrilling adventure and experience the magic firsthand. Interested in participating in Restaurant Business Builders for your own business? Learn more here.
---
---


Programs and services are provided to the public on a non-discriminatory basis. Language assistance services are available for limited English proficient individuals. Reasonable accommodations for persons with disabilities will be made if requested at least two weeks in advance. Please contact us at 971-722-5080 or sbdc@pcc.edu, to request accommodations. Oregon Small Business Development Centers are funded in part through a cooperative agreement with the U.S. Small Business Administration, and the Oregon Business Development Department.