SBDC client Chris Pero (perodesign) is a premier art sourcing studio with many options for your art needs. They offer a wide variety of options that include custom picture framing, 3 dimensional wall artwork, concept design, layouts, art procurement, project management, art installation, finishing (such as printing on surfaces such as acrylic, canvas, metal), and more. This is Chris' story.

We would like to know about your business. What caused you to start
perodesign
and what do you LOVE about your customers?
I have a passion for seeing art everywhere, and when I thought I would step away from commercial sales and framing, clients were calling me asking where I was, who I was working for, and in short, that's when perodesign began.
The first question I ask when I meet new client is "What is it that your business does?" I want to show off what the company does in the way of art. Daimler Trucks is a good example. I consider their trucks to be their art and showing trucks off in a creative way fits well their brand. However, not all businesses I work with are product focused. I also work with folks in hospitality, medical, dental, etc. For instance, if I am working with a medical facility we might focus on clinic specialties.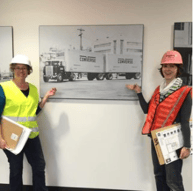 I'd have to say that every project is a little different. It is not a cookie cutter model at all. Sure, that makes things tougher, but it also gives me opportunity to brainstorm ideas with other creatives.
In which PCC SBDC programs did you participate? After 18 years of being in business I finally took the solo entrepreneurs class (now Small Business Builders) with Jackie Babicky-Peterson. That class really got me to focus on what it is that I do, raise my rates, and not get side tracked by "mission creep." I also have accepted that I CAN ask others for help. In fact, I hired a bookkeeper! It feels a little like dead weight, but it is so worth it. I have 3 independent contractors that work with me and have their own specialties (i.e graphic design and Photoshop). I know how to do those things, but what a specialist does in an hour would take me 8 hours.
How has the COVID-19 pandemic impacted your business? Perodesign has been fortunate. Work has been very steady and now everyone wants to refresh their empty office buildings. I am stunned with the profit we made in the last year. Another positive thing that has happened for us is that some businesses have closed leaving designers out of work. That brought designers to Perodesign as independent contractors. They have become great partners!
Now, as the state of Oregon continues the process of reopening, my plan is to just keep doing what I do best, and have fun.
What would you say to other small business owners thinking of working with the Small Business Develolpment Center? I would say, "Really? You think you have this down? Step back and get a fresh look at things. Your eyes will be opened a little bit more. And guess what? You will be more profitable too!"
---


Programs and services are provided to the public on a non-discriminatory basis. Language assistance service are available for limited English proficient individuals. Reasonable accommodations for persons with disabilities will be made if requested at least two weeks in advance. Please contact us at 971-722-5080 or sbdc@pcc.edu, to request accommodations. Oregon Small Business Development Centers are funded in part through a cooperative agreement with the U.S. Small Business Administration, and the Oregon Business Development Department.