In the fall of 2008 McKean Banzer-Lausberg and three friends sat down for a beer together one afternoon and talked about their shared passion for craft beer, community, meaningful relationships, and their vision of the future. Out of that meeting came the idea and a plan that would change their lives forever -- Migration Brewing. This is their story.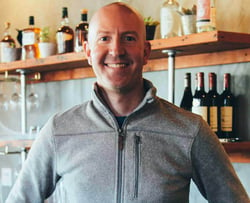 McKean, thank you for joining us today. What inspired you to start your business? I was born and raised in Portland and I've been interested in the craft beer industry for more than 20 years. I got into the industry in my second job out of college in 2001 and fell in love with both the craft beer community as well as the product. After serving from '04-'06 in the Peace Corps doing small business development in Morocco I came back to Portland. At that point I got back together with some friends and the relationships we had developed around craft beer turned into a business partnership.
As we sat around a table one afternoon, we came to realize that we had a shared vision of a business that included community, the power of chasing our dreams and craft beer. That conversation changed the trajectory of our lives. We began to put together a business plan that included our shared passion for great craft beer and our shared value set. It went something like, "Have a beer. Create a spark. Chase a dream." We thought that if it could happen for us then it had potential for others. That's really the underlying theme of all of our projects -- beer can create and connect community.
Tell us about your business. In 2010 we opened our first brew pub at 28th & NE Glisan. Year after year we grew our company's brand and distribution footprint. In the Spring of 2017 we signed with Columbia Distributing, the largest beverage distributor on the west coast and the next chapter of the business began when we built our 20,000 square foot Gresham production facility in 2018. Over the past three years, the company has become one of the fastest growing breweries in Oregon with distribution in Oregon, Washington, Colorado, Nevada, Thailand, and Japan.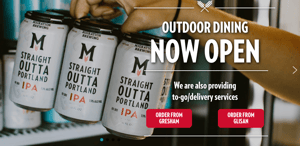 In August of 2020 we opened The Rooftop at Canvas across the street from Providence Park, but that is temporarily closed until April due to seasonality. We will also be opening a new pub location on North Williams in early March with an expansive 2,000 square foot patio. We're optimistic the world will get back to some normalcy in the second half of 2021.

Speaking of COVID-19 restrictions, how have you dealt with the shut downs? Portland is a tight business eco-system with restaurants and bars being an interconnected community within that system. As you know, everybody has been greatly impacted by COVID-19. Part of our company's ethos is to bring people together to create community, and that has been challenging during the pandemic.
We've had to make some very difficult HR and Health related decisions. Over the summer we made significant investments in Personal Protective Equipment (PPE) and other safety protocols. We invested in tents, heaters, etc. just for survival. We have taken advantage of as many of the government loans and grants as possible, thanks to the SBDC and others who keep us informed of these opportunities. The financial aid such as the Paycheck Protection Program (PPP) and others really makes or breaks it for us. We've been able to keep people on payroll and make debt payments thanks to these grants and loans.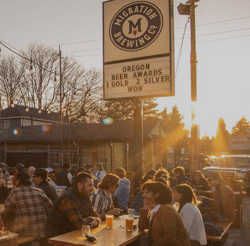 Before coming to the SBDC what challenges were you facing in your business? We had a big vision for what we wanted to create, but needed help with financial planning, managing human resources, managing cash flow – pretty much every aspect of running a successful business other than making and serving beer.
What types of services did you receive and/or in which programs did you participate? We've been involved with the SBDC since 2012 and have taken classes as well as working with the Capital Access Team (CAT Team). We have received consulting with Jackie Babicky Peterson in the Small Business Management class. Noah Brockman and CAT Team helped get funding for the facility in Gresham.
Planning has become a big part of our business ever since we started working with the SBDC. We have put energy into planning for growth. We've become better at projecting cash flow and have learned how to gain access to capital. A lot of small business owners get into their business due to a passion for doing their thing but don't have the skills or knowledge of how to operate a business. The classes and counseling we have received from the SBDC have had a big impact on our business.
The ability to build a referral network has also been huge for us. Noah Brockman and his CAT Team expanded our possibilities when it came to getting loans for building our facilities in Gresham. Just having someone who will listen to us without their own agenda is nice. It's good to get an objective perspective and to have someone to bounce thoughts and ideas off of who aren't trying to sell you something.
How is your business doing now? We are in recovery. Most bars aren't open and for the first seven years our business model relied on selling draft beer to bars and restaurants. We self-distributed to bars and restaurants, but due to the COVID-19 restrictions, that part of our business is way down. We only sold about 35% of what we expected to in that market segment in 2020. We also had a bunch of keg inventory that had to be destroyed because restaurants and bars weren't buying. Freshness is important to us and we try to get our beer into glasses within 60 days of it being brewed. The bar and restaurant market came back up in summer a little bit as restaurants were able to serve outdoors, but the most recent freeze ("shut down 2.0") stopped things again.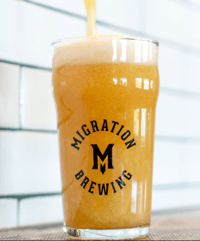 On the flip side there is a "silver lining" to our business thanks to the decision we made to go with Columbia Distribution. Our package sales were up 85% last year but the profit margins are not ideal due to packaging expenses. We were planning on a healthy combination of both, but the restaurant and bar market just isn't there right now. When all was said and done, we did about the same amount of distribution sales volume in 2020 as we did in 2019. To break even under these circumstances was good, but we had expected to do better.
I feel like there is a great opportunity coming for those of us who have been able to hold on during these challenging times. I believe we will be a better organization for it.
What would you say to other small business owners thinking of working with the SBDC? I was honored to promote SBDC Network at the Oregon legislature in Salem last year. I have also just become a member of the Advisory Council. I'm still getting my arms around that responsibility but feel this is a good way to stay engaged with the organization. I think participating in the Advisory Council is another way to help get the word out about the SBDC. It's been such a good resource for our company, I'd love to see other businesses take advantage of the things we got.
---


Programs and services are provided to the public on a non-discriminatory basis. Language assistance service are available for limited English proficient individuals. Reasonable accommodations for persons with disabilities will be made if requested at least two weeks in advance. Please contact us at 971-722-5080 or sbdc@pcc.edu, to request accommodations. Oregon Small Business Development Centers are funded in part through a cooperative agreement with the U.S. Small Business Administration, and the Oregon Business Development Department.