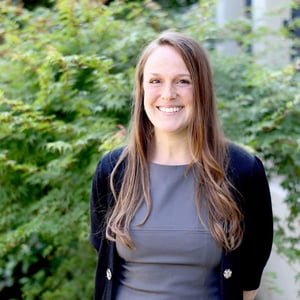 Meet Your Instructor: Beth Lennon, Functional Nutrition
Beth has a Master's of Science in Nutrition from NUNM in Portland and has worked for the past 5 years as a Health Coach and Nutritionist. With broad experience in healthcare communications, clinical nutrition, classroom and patient education, she currently works full time as a Health Coach and Nutrition Specialist for a digital healthcare startup called Hinge Health.
BETH'S UNIQUE SPECIALTIES: Nutrition for aging adults, nutrition for chronic pain, the neuroscience of chronic pain, therapeutic diets and hands-on cooking classes. Beth is an instructor with the Functional Nutrition program and participates in Nutrition in the Life Cycles.

Originally from Chicago, Beth spent about 5 years in Portland, OR and a year living abroad in New Zealand. She's a nature lover, minimalist, and a bit obsessed with reducing waste and her footprint on the planet. Favorite way to start her day = 15 mins of Qi Gong, followed by a Spotify playlist or health podcast.
From Beth (In her own words).
I'm excited to work as the instructor for two of the Life Cycles modules: Child/Adolescent nutrition and Older Adult nutrition.
For the past 5 years, I've worked as a coach/educator and nutritionist, with a broad range of experience from facilitating online groups in my current position at a healthcare startup to teaching group classes at a functional medicine clinic, to 1:1 coaching and hands-on cooking classes. I've worked primarily with nutrition and movement for aging populations and those with limited mobility or chronic disease. I love to focus on helping people build healthy habits, eat real food, get more active and incorporate mindfulness into daily life.
Prior to getting my Masters in Nutrition Science, I worked in healthcare communications and healthcare administration for about 10 years. I love working with people, but also enjoy writing, editing and weirdly detailed things like reviewing research studies, editing papers, and finding errors in spreadsheets and systems.
In my current role at Hinge Health, I've taken on the role of Nutrition Specialist for the company, acting as point person for any clinical questions that come up. I've also pioneered a new type of learning/training for our health coaches that focuses on hands-on learning from real life examples and then applying those concepts to help coaches improve their coaching skills.
My philosophy for teaching this, or any online course, is that I'm here as a facilitator (not a lecturer). I want to ensure you walk away with real hands-on skills that you can apply to work with clients or teach others. This arrangement is similar to but different from many traditional classes, in that I won't be standing before you every day, helping to mediate the material for you (by lecturing, for example). The responsibility for "getting" the material in this course is yours, though I have done and will continue to do my best to create online learning activities that will help you learn. The key point is that an online course like this one requires maturity and responsibility on your part. Think of me as a guide: I will be here to guide you on your journey, but you must be prepared to do the walking. I cannot carry you.
The next thing you should do is to read the SYLLABUS for our module very carefully. It contains my contact information again, along with other important information. The syllabus is a document you should refer to often
See you in class!