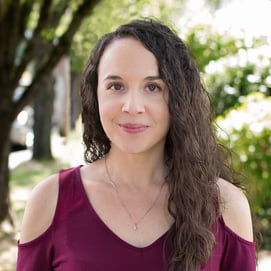 Julie Marks, MScN, is an adjunct faculty member at Portland Community College, teaching in the Functional Nutrition program. She is also the Nutritionist and Coordinator for the Food as Medicine Institute, where she teaches hands-on cooking and nutrition classes.
Julie has worked with people who have specific dietary needs and also those looking to improve their general health and wellness with whole foods. In the years prior to finishing her master's degree, Julie dealt with several personal and family health problems that guided her focus into cooking for digestive disorders. She specializes in diet therapies for conditions such as SIBO, IBS, gallbladder conditions, Celiac Disease as well as other autoimmune conditions, and cardiovascular health.
Julie finds the most joy in showing people of all health needs and cooking experience how to find delicious, easy ways to nourish their bodies and find pleasure from food.
Outside of her educator work, Julie is also the nutritionist/owner of her private practice Jam Nutrition, in Portland, Oregon. She earned her Master of Science in Nutrition from the National College of Natural Medicine (now National University of Natural Medicine) in 2015.
When she's not cooking or teaching, Julie enjoys spending time with her husband and border terrier, spending time with friends, eating, wine tasting, dancing, traveling, and Portland summertime.