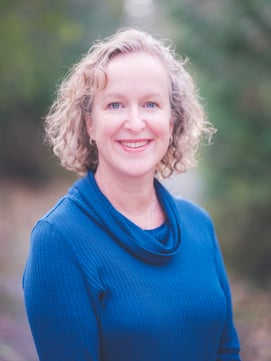 Courtney is a functional nutritional therapy practitioner and yoga instructor. She earned her master's degree in applied behavioral science/counseling in 2002 from Bastyr University with the intention of becoming a licensed marriage and family therapist, but instead started a family of her own and stayed home for several years until her youngest started kindergarten. In 2013 she continued her studies at the Nutritional Therapy Association and works in a family functional medicine clinic in Portland, Oregon. In 2017, Courtney rounded out her education by becoming a registered yoga teacher, and currently specializes in teaching yoga to seniors.
In her nutrition practice, Courtney collaborates with the physician and physician's assistant to care for patients of all ages with chronic illness, digestive disorders, mental health challenges, and people who just want to optimize their health and wellbeing in order to prevent disease in the future. Courtney uses her counseling skills and nutrition knowledge to help her clients attain and maintain vibrant health. Using a food as medicine approach and lifestyle interventions, she helps her clients reach their wellness goals. She is well versed in several therapeutic and specialty diets, including the anti-inflammatory diet, paleo lifestyle, SIBO specific diets, AIP, and The Wahls Protocol, among others. Courtney includes her personal experience with autoimmune disease, heavy metal toxicity, leaky gut, and small intestine bacteria overgrowth (SIBO) to inform her approach coaching her clients.
Courtney is a native Oregonian who resides in SW Portland with her husband, two teenagers, her father, and two lap dogs. She enjoys spending time with friends and family, cooking, knitting, reading, yoga, and travel.