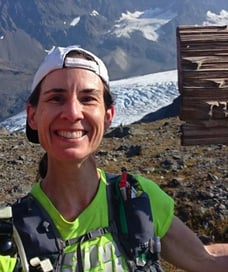 Mica Werner, MSM, is an Instructor at Portland Community College. She grew up in Ann Arbor, MI. After earning a BA in English from Michigan State University she took the next logical step and accepted a job as a medical assistant in a women's health clinic.
For several years she juggled working with rock climbing and traveling which led her to Alaska where she met her husband while working as a cook for the National Outdoor Leadership School's (NOLS) Palmer, AK branch. The two moved to Portland, OR in 2002 and have been here ever since.
Mica has worked as a Clinical Research Coordinator with Westover Heights Clinic, an IRB Coordinator with the Portland VA Medical Center, an investigator initiated trials Project Manager at OHSU, and currently loves her job as a Regulatory and Compliance Coordinator at Kaiser Permanente Northwest. Along the way, Mica and her husband welcomed two boys, she earned her MS in Management with a specialization in Research Administration, and in what little free time she has Mica trains for ultra distance trail running races.
As with most people in this field, Mica fell into research without understanding the full career potential research encompasses. She is delighted to be a part of this course to welcome and support newcomers to the field of Clinical Research at PCC.