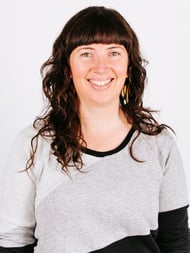 Celeste Sipes joined the PCC SBDC team in February of 2020 -- Just in time for a global pandemic to hit Portland that has dramatically influenced small retail businesses. But Celeste, who also owns a successful online retail business, is up to the challenge! These are indeed difficult times for brick and mortar retailers who are trying to figure out how to continue to operate without the normal flow of physical customers. Below is the story of how Celeste is able to provide a sense of sanity in a time of upheaval.
Retail Virtual Meetup -- Celeste and her team are hosting virtual meetups for retail owners every other Tuesday. You can JOIN THEM HERE.
Celeste, welcome to the PCC Small Business Development Center. What makes you want to teach & advise? I am a bit of a nerd, and I love collecting up information, cracking codes, getting to the bottom of things, and then sharing that information with my community.
What is your real world experience? I have been in the apparel business for 15+ years and had a brick and mortar store in Downtown Portland for 10. I am currently the owner of Thunderpants USA - Underwear that is designed to fit and built to last, made right here in Portland from Organic Cotton.
What is your favorite part about being an instructor/Adviser? I know from my own experience how difficult certain inside industry knowledge can be to access. I love being able to share real life useful information and help problem solve in real time. I live for a good solution.
What is happening in retail during the Covid-19 crisis? I'm surprised by the breadth of innovation happening in retail. The damage is severe, and it's really hard to know what the long-term damage will be, but store owners have been mobilizing and shifting in ways that are really inspiring.
What are you doing to assist small businesses during these challenging times? I've made myself available both within SBDC and outside to offer assistance in my strongest fields: e-commerce, shipping/fulfillment, and help in navigating the different assistance programs. And with the Virtual Retail Meetup I am aiming to provide a place where retailers can bring their questions and concerns and we will work as a community to come up with some ideas and solutions.
What skills are needed in order for someone to achieve success in small business during the Covid-19 pandemic? Tech and social media skills are certainly going to come in handy. There is a definite advantage to being innovative and gritty, but also we need to not be too hard on ourselves or think there is a magic quality or specific course of action that is key. There is an element of luck for which certain industries and product lines are going to have an easier time weathering the storm.
What do you think clients struggle the most with at this time of uncertainty? Doubt, cashflow, and uncertainty. Did I make the right choices? Am I making the right choices? How can I best position myself (what do I pay and not pay? do I go further into debt?)? And what is going to happen in 3 weeks, 3 months? a year? It's so hard to make confident decisions when there are so many unknowns.
How do you help them with this? By helping them focus on what they can do right now, guiding them through the technical real life solutions like e-commerce and setting up shipping, talking through the various assistance programs and options, sharing stories of success or frustrations with different solutions other retailers have tried, and helping find a resource for all the questions I don't know exactly how to answer.
If you could give one piece of advice to all your future clients, what would it be? Don't be afraid to try things your way, come up with solutions that work for you in your life and business instead of doing what you think you should do. Trust yourself, you know your business. This is stressful enough without having to step way out of your comfort zone as a business owner. Try it the way you want to first, and if it doesn't work, shift.
How do you keep yourself knowledgeable and up to date on trends and industry standards in order to deliver the best quality of advice to your SBDC clients? I'm still active in retail for one. I own a successful e-commerce business (Thunderpants USA) with wholesale accounts all over the US and Canada, so I am constantly in touch with small retailers in Portland and beyond. I also continue to study, read articles, and reach out to professionals in my field for their take on different technologies and trends.
What do you do for fun? hahaha… work? I do actually love working. My friends and family always joke that if I have too much free time, I'll just start another business--which has traditionally been true. I really love advising and I don't know if "fun" is exactly the right word, but it's how I'm spending much of my 'free time' and I couldn't be happier!