Mathilde Wilson owns Mathilde's Kitchen beverage company using fresh and locally sourced ingredients that showcase the vibrant Haitian/Caribbean flavors. Mathilde is a graduate of the PCC Small Business Development Center's "Getting Your Recipe to Market" program and proud recipient of the 2022 Good Food Award. This is her story...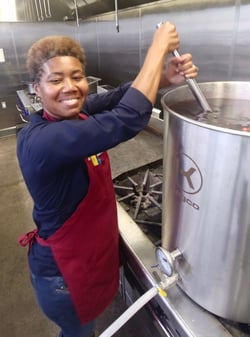 We would like to know about your business. What inspired you to start your business? Mathilde's Kitchen (previously known as Jouk li Jou - Haitian Cookshack Café) was founded in 2016. At first, we were offering hot soups at the Montavilla Winter Farmers Market. Then we opened a food cart to offer a bigger menu for walk-up clients and catering events. We had a lot of clients from the Willamette Valley to the Pacific Northwest that enjoyed the homemade drinks that were served with our meals, and they asked to have their drinks to go. I didn't know how to package my drinks to go so I turned to the SBDC.
Before coming to the SBDC what challenges were you facing in your business? As I say, I didn't know how to package the products, so I participated in the Getting Your Recipe to Market program at PCC Small Business Development Center in 2018 to learn how to package them. At the end of the program, we presented to panelists from New Seasons Market, and we were the only product from the 2018 Spring cohort that got accepted to be on their shelf instantly.
How have the services or programs helped you overcome your challenges? I learned how to package along with other aspects of how to make business viable and profitable. We're now at many Co-Ops, a few restaurants and other grocery stores. We have made some great partnerships with other brands and agencies. In the Spring of 2021 one of our flavors (the Hibiscus flower and Ginger) was featured in a Salt & Straw sorbet. We were also featured in season 18 of the television show Top Chef that was filmed in Portland in 2021. Just this month (January 2022) Mathilde's Kitchen flavor Hibiscus flower and Passion fruit juice is a Winner of the Good Food Award 2022!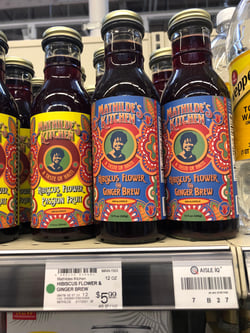 What have you done differently in your business since working with the SBDC? Just a few months before Covid-19 hit we closed the food cart to focus on packaging the beverage and catering events. Through our website and other marketplace platforms our clients can have their drink delivered at home now. We now have over 30 wholesale accounts, and we are working with Community Co-Pack NW, a low-barrier contract manufacturer that incubates and scales BIPOC and women-led businesses to package our drinks.
What would you say to other small business owners thinking of working with the SBDC? SBDC is a great resource for small business. They provide Advisors to work with and offers opportunities to network with other agencies.
- - - - - - - - - - - - - - - - - - - - - - - - - - - - - - -
---


Programs and services are provided to the public on a non-discriminatory basis. Language assistance service are available for limited English proficient individuals. Reasonable accommodations for persons with disabilities will be made if requested at least two weeks in advance. Please contact us at 971-722-5080 or sbdc@pcc.edu, to request accommodations. Oregon Small Business Development Centers are funded in part through a cooperative agreement with the U.S. Small Business Administration, and the Oregon Business Development Department.