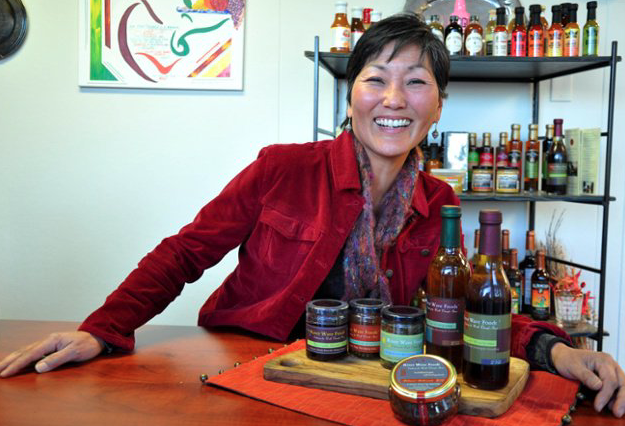 Have your friends or family ever told you that you should sell your special sauce, cookies, or other culinary creation?
Are you ready to start getting your recipe on grocery shelves but you have no idea where to begin?
There are many things to consider when starting a food product business: packaging, labeling, marketing, costs, and more.
Imagine starting a food business with confidence, knowing you have thought through all the steps necessary to launch into the marketplace.
Getting Your Recipe to Market is a unique, 12-week intensive training program that will help you take your idea to a commercial-ready food product.
We've partnered with food industry experts, OSU's Food Innovation Center, and New Seasons Market to take you step-by-step to produce, promote, and sell your product.
Getting Your Recipe to Market gives you the skills to:
Understand industry essentials, and avoid common mistakes.

Our program is designed to teach you the ins and outs of the food industry and help you avoid costly mistakes. Food industry experts will teach you how to produce, promote and sell your product. Learn about product development, food science, packaging, distribution, and more.

Connect with and gather insight from local food professionals.

In each session, you'll meet experts working in the food industry such as grocery buyers, co-packers, food scientists, packaging experts, regulators, and more. You'll also have your product reviewed by New Seasons Market buyers.

Prepare for the commercial market.

We'll cover core marketing principles for promoting a consumer food product, giving your product the best chance to succeed. Learn how to calculate costs of goods sold (COGS), conduct break-even analysis and other financial keys to creating a profitable product.

Get one-on-one help building your food product business.

We're here for you as you launch your product and continue to grow your business after the program. Your advisor will work with you to develop an action plan and provide guidance in making key business decisions.
What to Expect
Each week we'll bring in subject-matter experts to teach on important areas. Each session is 3 hours long.
Subjects Include
product costing and pricing

food science & safety

licensing & regulations

producing in a commercial kitchen or with a co packer

brand development

label compliance

selling to grocery buyers

selling in farmer's markets

alternative sales channels

distribution

food business law

and more!
For a detailed course outline, complete the form on this page.
Getting Your Recipe to Market is more than just a class. It includes:
A 30 minute meeting with New Seasons Market buyers to pitch your brand and present your product(s). You will receive valuable feedback and the opportunity to have your products placed into the New Seasons stores.

Reserved space and participation in the Time to Market Trade Show to showcase your product to potential investors, buyers and to the public.

One-on-one business advising.

Complimentary access to Business Design Series, SBDC's business planning course.

Supportive learning through your cohort/peers.

Access to business advisors with a wide range of backgrounds and expertise.
Join over 300 individuals who have completed this program since 2006.
Alumni Success Story - Tan Tan Foods

Lisa Tran of Tan Tan Foods says, "Everything from the first day of class has built the solid foundation on which my products and subsequent business has been built upon. The mentorship and networking opportunities have been invaluable! The connection we made to New Seasons Market through the program led to other retail opportunities.

Currently, we are in close to 400 stores, the bulk of which are the Safeways and Albertsons in Oregon, Washington and Northern California."

-
Read more about Tan Tan's success
here
!
---
"The education that I received in the GYRM class was eye opening and invaluable. It gave me the information that I needed to start this business off on the right foot, as well as connecting me to resources and contacts that set the path toward profitability." -- Marilyn Roseburrough, Kember's Gluten Free
---
"That class was exactly what I needed when I was starting out. I had no idea that I'd have to learn things like how to convert a recipe to a scalable formula, or how to find contract manufacturers and distributors. In a few short months, I have been exposed to everything I needed to know to get started with my food business. Getting Your Recipe to Market and ongoing business advising have been critical pillars in the creation of my business. Without it, I most likely wouldn't be in business. I probably wouldn't have even known where to start." – Josh Fegles, Jude's Foods
---
"Having an advisor each step of the way has been awesome! Learning new business practices, and having the opportunity to implement them with direction, has helped me to continue to grow my business profitably." -- Betsy Walton, Our Favorite Foods LLC
---
"In the end, the program really paid for itself because it saved us money in mistakes that we would've made." -- Junea Rocha, Brazi Bites
---
Who should enroll in Getting Your Recipe to Market?
Getting Your Recipe to Market is good fit for you, if:
You have a complete and consistent recipe.

You have no retail sales.

You have time to dedicate to class, advising, and the work.

You want to make your food business idea a reality.
The Investment
Time:
Getting Your Recipe to Market is a 12-week course that includes 36 hours of classroom education.

Every session is 3 hours

You will participate in the New Seasons evaluation and the Time to Market Tradeshow.

Expect to spend time outside of the classroom and your advising sessions to work on different aspects of your business
Financial:
Tuition for Getting Your Recipe to Market is $1,995

A second person from your business can attend for $1,000

Payment are made through Portland Community College, payment plans are available if you register early
The Return:
The knowledge and confidence you need to launch your food product business.

Opportunities to make your product known, including:

New Season's Market product evaluation

A reserved table at the Time to Market Tradeshow

Resources for ongoing learning and growth, including:

Lifelong business advising

Access to future Getting Your Recipe to Market classes
How to Enroll in Getting Your Recipe to Market
You must request a guided interview to ensure the program is a good fit for you. Complete the form on this page to schedule a guided interview.
Class Starts September 27, 2022
Want more information? Complete the form on this page to get a detailed course outline and to schedule a guided interview.
rev 12.22.21