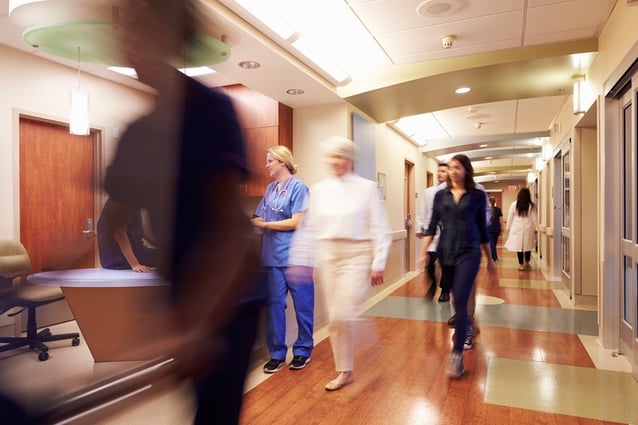 Patient access specialists are a vital part of the care team at almost every hospital, healthcare center and doctor's office in the country. As the first person who patients meet, patient access specialists can immediately put patients at ease and help them have a smooth, safe healthcare experience.
Patient access specialists protect patient safety by ensuring each patient is properly identified. They help ensure hospitals and physicians follow compliance guidelines set by regulatory agencies and provide stellar customer service to all patients from check-in through billing.
We recently sat down with Lisa Morrison, Portland Community College CLIMB instructor, to learn how she became a patient access specialist. Lisa has 25 years of experience in healthcare and has taught dozens of students how to become a patient access specialist. She shared with us the key things you should know about how and why to become a patient access specialist.
How to Become a Patient Access Specialist
Lisa gained plenty of experience before becoming a patient access specialist. "After moving to the Seattle area, I volunteered for a home health hospice department where I was taught medical terminology. Once I was hired full-time in the department, I began typing the nursing dictation for the visit."
After several years of experience, Lisa was hired as an on-call registration representative at another healthcare organization. She worked her way up through the ranks, to a lead representative, then to quality assurance and education and eventually to the regional director of the entire department. "I liked being able to help patients and continue to be in the financial side of business," Lisa says.
Though at the time there was no certification to be a patient access specialist, Lisa took advantage of the local education offered by the National Association Healthcare Access Management (NAHAM). Eventually NAHAM developed the Certification of Healthcare Access Associate (CHAA) exam for patient access specialists.
Certification and training
When Lisa took the test, she had to attend exam in person. She had one book of training materials and no other classes or guidance to help her study. "You had to study the guide and do research on Medicare / Medicaid regulations and Joint Commission on your own," Lisa says. "After the exam, you had to wait six to eight weeks to hear if you had earned the certification."
Today, students have an easier time preparing for the exam than Lisa did. You can use an online study guide, take the exam online and find out immediately if you were successful or not. You can also take classes, such as the Patient Access Specialist Course offered by the Institution for Health Professionals at PCC, to make studying for the exam easier.
"This two-term course gives you an understanding of insurance, coding and billing processes as well as the importance of customer service," Lisa says. Lisa helps teach the course and help people prepare to become patient access specialists. "The training ties all of it together and reviews the study guide, preparing students to pass both the course and the exam."
Why Become A Patient Access Specialist
Lisa found a lot of satisfaction in her role as a patient access specialist, especially when working with patients.
"One of the best parts of becoming a patient access specialist is the patient interaction," says Lisa. "Patient access specialists provide the first and last impression the patient and family receives. When patients return to your facility, it's very rewarding when they remember you. You develop a relationship with them and you know you've made a difference in their healthcare experience."
Lisa says patient access specialists do face many challenges, such as dealing with unhappy patients or working with insurance companies to obtain authorization. "At times, working with physicians and nurses can pose its own challenges," Lisa says, "especially when you need to have a financial conversation with a very ill patient or their family member. These conversations can seem uncompassionate if not managed carefully, but regulatory and compliance issues require them."
Lisa says that a lot of people believe that a patient access specialist is an entry level position. However, because of compliance and regulatory issues, a patient access specialist needs more skills and experience to succeed.
"A patient access specialist doesn't simply ask a patient for their name and click a button to check them in," Lisa says. "The role is very complex, involving knowledge and skill in a variety of areas. You must be welcoming when the patient enters, have technical and financial conversations with clinicians and insurance companies, all while providing exceptional financial care to the patient. Organizations rely very heavily on individuals in this role."
So if you want to work with patients, but enjoy being involved in the business of healthcare, you may make a great patient access specialist. You'll have to brush up on your communication skills, learn more about billing and insurance and get ready for your certification exam.
If you're a thinking about becoming a patient access specialist, the PCC Institute for Health Professionals can help you prepare for a successful career. Contact us today to learn more about how we can help you become a patient access specialist.