Linda Keppinger, a Portland-based artist and photographer, founded KeppingerCreative in January 2020, just before the COVID-19 pandemic began. Linda participated in Business Builders, a 10-week PCC SBDC training program, in 2020 and continues to seek guidance from her expert business advisors. Now, KeppingerCreative has quadrupled its revenue in just one year by selling its line of art-based paper products into specialty retail stores nationwide! This is Linda's story.
Read more about Linda's entrepreneurial experience below!
Thank you for sharing your story with us, Linda. What inspired you to pursue your business? What do you LOVE about your business?
I was a textiles design consultant after leaving the corporate world and when the pandemic hit my consulting business went sideways, so I decided to apply my creative skills to a line of paper products. In the first year, my business did well because people were sending more cards and writing letters to their loved ones during the pandemic. My wholesale buyers were from stores where people were spending more time - on cooking and planting products.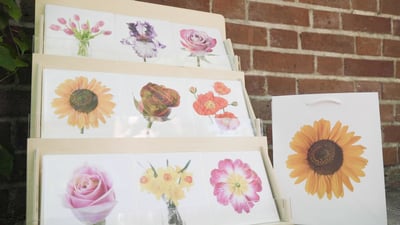 I love the creative aspects of my business. It's rewarding to hear about what customers would like and then creating that for them, and then seeing it sell through at retail. It's very rewarding to help create a closer connection amongst people. "Brighten Someone's Day" is the slogan that seems to resonate with my customers. Now, I'd like to expand the use of my photography into commercial and retail spaces.
What types of PCC SBDC services did you receive and in which programs did you participate?
SBDC helped to connect me with an array of valuable resources within the local business community. One example was finding out about grants being offered to small businesses which enabled me to invest in my brand in various areas. I also enrolled in the Business Builders training program and continue to work with an advisor.
Before coming to the PCC SBDC, what challenges were you facing in your business?
Some of my early struggles included marketing my brand and figuring out how to sell my products. Some important legal matters such as registering my trademark and filing copyright registration of my photography with the US Copyright Office seemed overwhelming. Acquiring new retail outlets has been extremely challenging during the pandemic as retailers were so risk-averse to buying from a new brand. It has also been challenging to find other brands to connect with in the home goods product sector. There are many food & beverage makers as well as footwear & apparel companies in the area but few brands to network with as other home goods manufacturers. With supply chain issues being one of the most paramount issues for most businesses, I faced long lead times and inconsistent deliveries. My current challenges include automating the assembly process and expanding my customer base by selling my photography to commercial clients.
Since working with the SBDC, what business milestones have you achieved? How have the services or programs helped you overcome your challenges?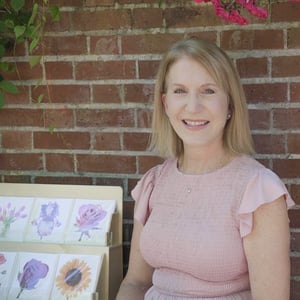 SBDC helped me to connect me with other small businesses that were dealing with the same issues that I had as a small business. One such example is connecting me with the PNW Food & Beverage network which is a tremendously supportive group of businesses in the area.
I've been able to address some important issues such as registering my trademark and establishing some best practices to maximize my website for marketing purposes. Scheduled check-ins with my advisor have helped me to stand back and look beyond the everyday details to further evolve my business.
In 2021, my second year in business, I quadrupled my sales numbers over my first year in business. To others thinking of working with the SBDC, I would say: Connect up with an advisor and consider getting involved in the Business Builders program!
---
Want to learn more about starting and growing a sustainable business? Check out Business Builders!
- - - - - - - - - - - - - - - - - - - - - - - - - - - - - - -
---


Programs and services are provided to the public on a non-discriminatory basis. Language assistance service are available for limited English proficient individuals. Reasonable accommodations for persons with disabilities will be made if requested at least two weeks in advance. Please contact us at 971-722-5080 or sbdc@pcc.edu, to request accommodations. Oregon Small Business Development Centers are funded in part through a cooperative agreement with the U.S. Small Business Administration, and the Oregon Business Development Department.