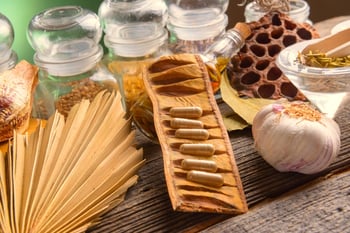 The Institute for Health Professionals' Functional Nutrition is approved by the National Association of Nutritional Professionals. The course series is taught over four terms and covers all of the following topics: assessment techniques, physical health and fitness, biochemical and pathophysiology of foods, ayurvedics and traditional Chinese medicine/herbology, business practice and ethics, nutritional research and resources, nutritional counseling, and buying, cooking, and storing food.
In this article we'll take a closer look at determining if a nutritional therapy certification is right for you.
Who Needs to Complete a Nutritional Therapy Program?
Anyone who plans to sit for the Board Exam in holistic nutrition needs to complete a nutritional therapy program, and the Institute for Health Professionals' program will meet the educational standards for this exam. Healthcare professionals with an avid interest in combining science (biochemistry and nutrition) and natural, drug-free medicine would also benefit from completing this program.
The knowledge gained from the study of nutritional therapy can be beneficial to anyone wishing to become an educator or expert speaker on nutrition or holistic medicine. Health-industry small business owners such as naturopathic physicians, chiropractors, acupuncturists, and massage therapists will learn valuable information and skills through this program. A full list of the career applications of the Institute for Health Professionals' Nutritional Therapy Program can be found here.
Questions to Think About Before Beginning a Nutritional Therapy Program
Do you understand the time commitment required?
Many people underestimate the amount of time continuing education will demand from their schedule. It is appropriate to allocate at least four hours per week outside of class time when considering the time commitment required from any academic program.
However, because we offer both online and in-person courses, the Nutritional Therapy Program can be perfect for those that are also working part of full-time, as many of our students are.
Do you plan to take the Board Exam after you complete the program?
It is important to consider the timing of your Board Exam in relation to your nutritional therapy program. You may wish to give yourself more time to prepare for the exam, or you may wish to get it done as quickly as possible in order to have the freshest memory of your recently-completed studies. Preferences and testing styles vary, but everyone intending to take the Board Exam should consider this before beginning a program.
The Institute for Health Professionals' Nutritional Therapy Program can be an excellent choice to complement your existing education and professional experience, or be a tool to boost your career all on its own. As with any commitment that demands time and money, careful consideration must go into it before beginning.
Luckily, there are many resources out there for you to use while you are in the research stage, and the advisors at the Institute for Health Professionals are prepared to help you along the way once you have made your choice.