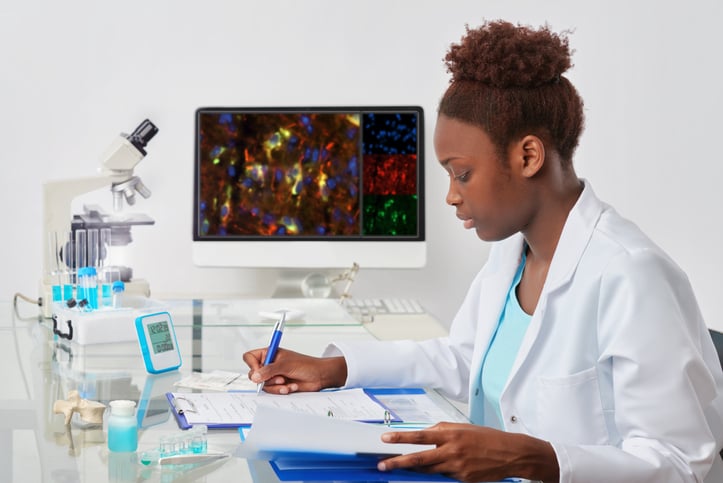 Clinical Research assistants and coordinators provide vital roles in the healthcare industry. They help advance medical knowledge and patient care by monitoring clinical trials, ensuring compliance with trial protocol, reviewing case report forms and working closely with more experienced professionals during clinical research projects. In some cases, the success of clinical trials rely heavily on the skills and competence of the clinical research assistant. Our program offers a gateway into the profession so that you may be well positioned to become a Clinical Research Associate.
What do Clinical Research Associates Do?
Clinical Research Associates monitor and oversee daily clinical research trial activities, playing a critical role in the conduct of the study. In addition to running clinical trials, they analyze data, make detailed observations and form conclusions based on their findings. They may also be responsible for writing research protocols, designing data collection forms and managing regulatory paperwork.
Individuals in this role need strong interpersonal and communications skills to foster a healthy and effective work environment. Concentration and attention to detail are also critical skills for CRAs to have.
What is the Job Outlook for Clinical Research Assistants/Coordinators/Associates?
The CRO (contract research organization) industry is growing, which means there is an increasing demand for clinical research associates. According to the US Bureau of Labor Statistics and Salary.com, this particular role is expected to grow 16% between 2004 and 2014, and the median salary in 2016 was $58,724.
Individuals pursuing this career path should have a bachelor's degree in a biomedical-related field like medical technology or life science. They may also have to pass a licensing exam or meet other licensing requirements, depending on the job role and state requirements.
Starting Your Career as a Clinical Research Professional
The Foundation of Clinical Research program can offer students the skills and knowledge they need to advance medical knowledge and patient care through clinical trials. After completing this program, graduates will be equipped to conduct trials at research sites, like medical centers and hospitals; pharmaceutical, device or biotechnology companies; and contract research organizations.
In the program, you will learn the foundational terms, concepts and elements of designing and implementing clinical research. You'll also explore ethical, operational, regulatory and other principles that support successful clinical trials. As an online, live-taught program, students participate in 60 total hours of live instruction and discussion, plus self-directed study. It's designed for health professionals looking to supplement their income through clinical research, or those looking to switch careers in the health field for a more balanced work schedule.
The total investment for the program is $1,199, and students have the option of enrolling in a six-month payment plan. It will take five (5) months to complete the program, as all students will participate in online classes on Thursday nights from 5:00 – 8:00 p.m. PST (unless otherwise noted).
Graduates of this program are prepared to work as entry-level Clinical Research assistants/coordinators in the fields of oncology, lab pharmaceutical, treatments, prevention, diagnostics, and more - and can then gain the experience to become associates. Upon successful completion, students will receive a non-credit certificate from Portland Community College in Foundations of Clinical Research 1&2, with a total of 60 CEU hours.
The clinical research field is continuously growing in the healthcare industry, which opens doors to unlimited possibilities for clinical research professionals. This role is one that is always needed to assist in research and findings for informational purposes and advancements in the healthcare industry. For more information on getting started on your career path as a Clinical Research professional, register for an upcoming program or sign up to our newsletter to receive more information, today!
Learn from anywhere in the world! Click on the 'Learn Online' button to explore our Clinical Research program.