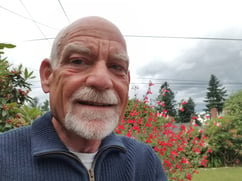 After spending 30 years in the banking and financial services industry, SBDC Advisor and Instructor Terry Long shares his expertise to help small business owners set up, understand and utilize their financial information to build a successful business. Here is his story. . .
Why do you teach & advise? I get great fulfillment when working with Small Business Owners in assisting them with their passion and dreams of taking on this exciting adventure in achieving a successful and profitable business.
What is your real world experience? I had a previous career in the financial sector for over 30 years. I have been with the SBDC for over four years am the cohort lead for our Small Business Builders Program. My main expertise is in the areas of Understanding Your Financial Statements, Inventory Management I & II, and Building a Budget (capital, operational and sales) to assist the small business owners in strategic planning. I am also a member of the Capital Access Team (CAT). I have an MBA from Fairfield University and a Bachelor of Science in Accounting from Linfield College. I am also a graduate of the America's Community Bankers National School of Banking.
What is your favorite part about being an instructor/Advisor? I enjoy seeing the student embrace with excitement the topics and tools we offer. I love it when they follow through on developing these tools for their business (Marketing Plan, Budgets, Sales Forecast, setting specific business goals, etc.). Knowing that what we do plays an important role for their success is fantastic.
Tell us about a time that you were most proud in your role as an instructor or advisor. I enjoy the excitement that we see when a small business owner has a "light bulb" go off in relationship to a concept. Their enthusiasm to want to develop action plans for their success is very personally rewarding. I also enjoy the diversity of clients and interesting businesses I get the opportunity to serve.
What kind of transformation do you see in your students during a course? The Small Business Builders Program brings to light the A to Z topics of running a small business. It's a 10 week series that is critical in providing the tools, worksheets, articles, expert instructions with in-depth knowledge. Participants get "hands on" experience in applying these ideas and concepts to their business.
What do you think participants struggle the most with in this course? Time Management associated with business/personal goal setting and developing an entrepreneur mindset. We emphasize working ON your business as well as working IN your business, which is why we offer a 3-hour session on the topic of time management. They get specific tools that help them to be successful in mastering the new responsibilities of business ownership.
How do you help them with this? Working for the SBDC I have an opportunity to meet with clients/students one-on-one. We have have a fantastic group of advisors with years of expertise in various fields to whom I can refer them. Our advisors provide clients with the best advise available and fantastic resources in targeted areas where they may need additional assistance.
If you could give one piece of advice to all your future students, what would it be? Take advantage of all the educational series available through the SBDC. I believe the most important thing you can do to be highly successful is to invest in yourself.
How do you keep yourself knowledgeable and up to date on trends and industry standards in order to deliver the best quality of education? Through the numerous SBA publications and of course through the internet. We also have a strong network of advisors who are constantly sharing information with each other.
What do you do for fun? I'm big into family history. Was fortunate to be able to travel to England in May and meet my long-lost cousins from my 4th great grandfather's brother and to see the house where my grandfather was born (yes still exists) and where his parents and sister lived before coming to America in 1902.
The next Restaurant Business Builders Program starts in the spring of 2022.