With an extensive background in education, healthcare, and sales, Sheila Meserschmidt has been serving as the Director of the Institute for Health Professionals for 10 years. Her experience helps her to serve the department as it continues to grow to match the demand of the respective industries in Portland. Here she will share more about the upcoming programs, who can benefit from them, and more.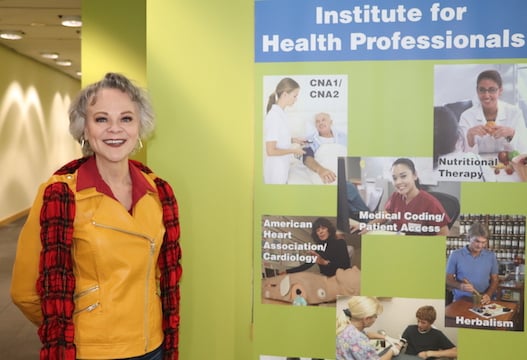 What are some of the upcoming programs within the Institute for Health Professionals?
We are launching a new Gateway/Entry program in the winter term 2020 that is titled Optician ABO Prep course. We are looking forward to this program because it's another opportunity for students to take short-term training to get into the workforce. In the spring term, we will begin a new cohort for pharmacy technicians, a field in which there are many jobs available, both in retail and in the hospitals.
Who are some of the ideal candidates for these courses in the Institute for Health Professionals?
Students will need a high school diploma or a GED to participate in these two programs. The student interested in the pharmacy technician cohort will need to fill out an application, which is provided on our website, to ensure they have the prerequisites before starting the course. Both are outward-facing, meaning they require a lot of interaction with the public, thus they need to be compassionate and empathetic to a diverse selection of people. They also need to be diplomatic, have good patient communication skills, be thoughtful listeners, pay attention to details, as well as have a strong sense of ethics.
What are a few objectives of the programs mentioned above?
Certainly one objective is to provide training that moves individuals into a rewarding role in the industry. Having the kind of customer interaction that these two professions provide, students will obtain work experience that could be applied to further training for career advancement if they choose to continue beyond these initial courses.
What are a few challenges that students can expect to face during and after these programs at IHP?
Obtaining financial support can be the biggest hurdle as students either have to pay out of pocket, receive support from their employer or another third party pay source such as Worksource, which has multiple locations around the Portland area. The courses mentioned above have an online component that comes with an expectation that students can be self-directed and motivated to learn the material on their own. These are college-level courses, so students need to be prepared to invest in themselves outside the parameter of class lectures.
How does PCC's Institute for Health Professionals implement current and projected industry trends from around Portland into your programs?
We look to industry partners to help direct us in terms of future healthcare trends so that we are prepared to be leaders in training. An example of this responsiveness is our development and implementation of the innovative delivery of dental assistant training in our non-credit Integrative Community Dental Assistant Program (ICDA). Our model meets the needs of individuals who cannot attend a traditional, daytime dental assistant program. Typically, these students' funding comes from existing employers who want to upskill their current employees in more rural areas where traveling to the nearest community college is a challenge. This program is also great for those who have other daytime jobs or family commitments that prohibit them from attending class five days per week.