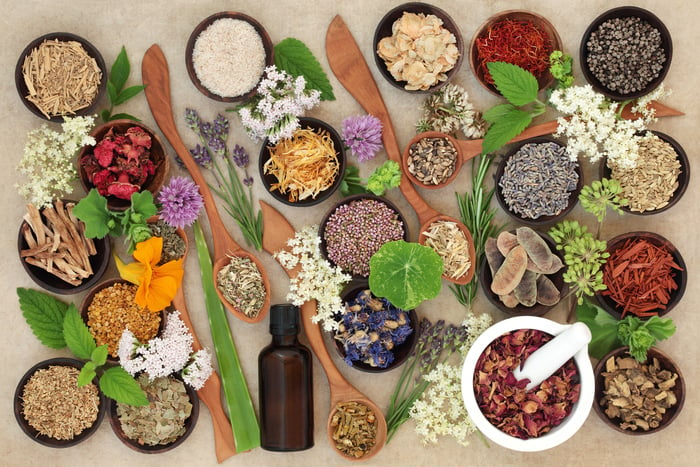 As society drifts towards a more inclusive understanding of health, seemingly more attention has turned to natural ways to manage it. In fact, two-thirds of Americans state that herbal remedies will take centerstage in the management of their health in the coming year. As these individuals incorporate herbs into their daily diet, they may also be able to reduce their reliance on traditional medications — and potentially leave the side effects behind.
If you want to become a part of this movement, the Herbalism series from the PCC Institute for Health Professionals can equip you with the information and techniques you need to practice herbalism. Read more below to learn how.
What is Herbalism?
Beneficial herbs are plants or plant parts with therapeutic value that are used to make oral medications, topical ointments and other helpful concoctions. Herbal medicine, also known as herbalism, is the art and science of using herbs to promote health as well as prevent and treat illness. And rather than treating particular conditions or diseases, herbalism focuses on the whole self to promote total healing and wellness.
History of Herbalism
People have relied on the power of herbalism for more than 5,000 years. These traditions continued strong all the way up through the late 1980s, when 85% of modern medications were made using plants, as reported by the American Herbalists Guild. Now only 15% of modern drugs have plant origins, but that has not changed the way people perceive the importance of herbalism. Despite the shift in modern medicine, more than 75% of the global population continue to rely primarily on traditional healing practices, most of which is herbal medicine.
Modern Medicine vs. Herbal Medicine
With modern medicine, pharmaceutical drugs are single chemical entities that are highly refined, purified and often synthesized to achieve the desired effect. These drugs are often designed to stop or attack disease-causing mechanisms using strong chemicals. The human body can have a hard time processing these substances, causing side effects to develop. In some cases, these side effects are as bad as the condition being treated.
Herbal medicine, on the other hand, rarely causes negative side effects. Herbal medicines are prepared from living or dried plants, and often have hundreds to thousands of compounds that work together to treat the condition and heal the body. The herbal remedies do not impact the body in the same way that strong chemical compounds can. As a result, herbalism often results in the treatment of the problem without causing any additional issues.
Learn Everything You Ever Wanted to Know About Herbalism
You can dive deeper into herbalism with the Institute for Health Professionals' Herbalism Professional Series. Through each module, which can be taken in any order, you can gain the insights you need to become a leader in this field. You will learn from industry experts about topics that explore the impact of herbs on the health and healing of people across all life stages.
To determine if this is the right path for you, ask yourself the following questions:
Are you interested in increasing your herbalism knowledge?

Do you want to learn how to effectively use herbs to promote healing and wellness?

Are you ready to become a credentialed professional herbalist?

Would you like to enter a rapidly growing complementary medicine field?

Are you ready to have a career in natural health or the organic food industry?
Here's How to Join the Herbalism Program at PCC
If you answered "yes" to any of those questions, join the herbalism program at PCC. You can jumpstart your career by earning the credentials that will make you an important part of this growing field. Once you have your coursework completed, you can look forward to many different career opportunities in the world of herbalism.