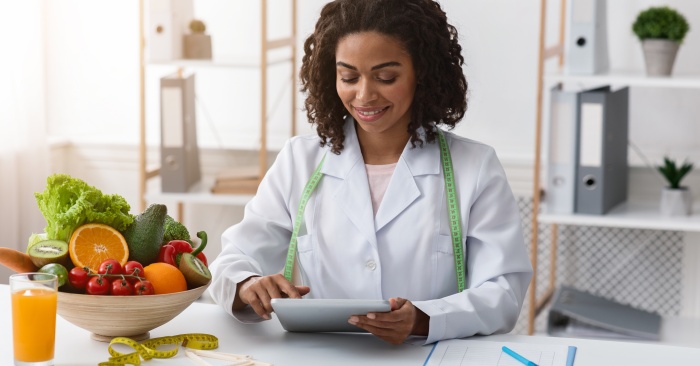 Becoming a functional nutritionist is an exciting and rewarding career. Many people look into nutrition as a career path after a passion for health, wellness, and intentional diet choices, but there is so much to learn about how food, exercise, and other elements of our lives impact the health of our bodies. At Portland Community College, you can pursue a year-long preparation program in Functional Nutrition with a cohort of like-minded students who are also studying through live, online classes. This course is approved by the National Association of Nutrition Professionals as preparation for the Holistic Nutrition Credentialing Board certification exam.
Learn more about this career path and how functional nutrition can be a satisfying addition to other healthcare knowledge if you already work in a healthcare-related field.
Expectations of a Nutritionist
Nutritionists are part of a growing field, as more and more people seek out help with understanding the impact of diet and exercise on their wider health. A nutritionist may have a wide range of specializations and the outlook for jobs is positive: in 2012, there were 67,400 dietitians and nutritionists across the country, with many of those in the Portland, Oregon area. By 2022, this figure should grow to about 81,600.
Nutritionists work in a variety of settings, but their core work often revolves around consulting with individuals who have questions about their diet and nutritional needs based on some element of their health and wellness, be it a dietary restriction like vegan eating or a medical condition they wish to address. They often get to the heart of the issue by helping their clients create portions and compositions of their meal plans so that they can assess the effect of a change in diet. They work with clients to identify the changes in their overall health in response to meal plans, such as weight loss but also changes in medical symptoms.
A nutritionist may be employed in many settings, from hospitals to private practices to long-term care facilities. Anywhere a variety of individuals need to make choices about their nutrition and what they'll plan to eat intentionally can be a potential place where nutritionist knowledge comes into play.
Becoming a Functional Nutritionist
Portland, Oregon is home to many people who recognize that food has a major impact on our bodies, meaning that more natural foods and fewer processed ones can be helpful to our overall health. The Holistic Nutrition Credentialing Board offers the Holistic Nutrition Professional exam, which you can prepare for using the PCC Functional Nutritionist program. This kind of nutrition work isn't medical nutrition licensure. Instead, it focuses on education and consultation with clients who want their lifestyles to change and to create better food habits going forward.
The Functional Nutrition program is rigorous, taking a year to work with the same cohort of students through four terms in two sessions a week of online classes. What is nice about the program is that it prepares you intensively to feel ready for your work as a nutrition professional, but it is deeply flexible, given that you only have two course sessions per week and can do your preparation for those meetings as you like around your busy life.
The curriculum is fundamentally science-based, but draws on traditional wisdom such as traditional Chinese medicine and Ayurveda, recognizing that nutrition knowledge has been passed down for many generations. Drawing on a variety of sources can help students to find their own perspective on nutrition while being informed by the latest studies and well-established wisdom about how to create and maintain a balanced diet.
How to Stay Current as a Functional Nutritionist
To achieve the further standard of "Board Certified in Holistic Nutrition®" designation from the National Association of Nutrition Professionals, you'll supplement your classroom knowledge and join the NANP, and then document 500 contact hours (half direct and half indirect) of working in internships, research, self-employment, or independent nutrition research. Gaining this further board certification helps inspire confidence since the credential itself shows you have a thorough experience working in the field through a combination of supervised and potentially independent nutritionist practice.
Once you've passed this exam, you are a board-certified holistic nutritionist! Every two years after that, you still have to renew your certification, but that doesn't require retesting but rather submitting documentation of 30 continuing education units, which is a valuable goal anyway because the world of nutrition is always gaining new insight through research that is published all the time.
Become a Portland Practicing Nutritionist
For those who are passionate about eating in healthy ways here in Portland, Oregon, there are many opportunities to help people while focusing on diet and meal planning. Knowing the key elements of holistic nutrition can also help you in other medical fields, where patients turn to you for advice about food choices. PCC CLIMB has a wide variety of courses that can help you further your career, so make sure to review the catalog today!