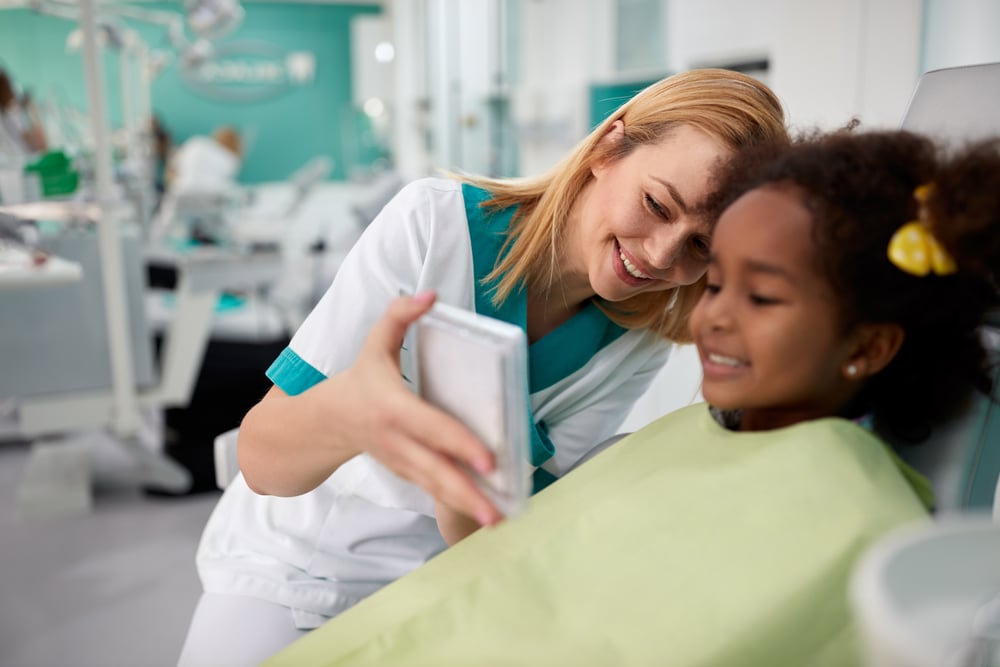 The world will always need dentistry, especially with an aging population. While many dental careers need years on years of school, dental assistants can get into this growing field with a comparatively low investment. This is a great career that pays well (with a national average wage of $39,770 per year), and offers great job security.
What is a Dental Assistant?
Dental assistants work as part of the care team in a dentist's office. Their responsibilities include taking x-rays and medical histories, developing infection control protocol, and assisting with a variety of patient care tasks. The role of a dental assistant is to free up the dentist's time to handle more complicated matters that require their experience.
Dental assistants most often work in practice offices, including specialty practices, but may also work in hospitals, public health, and dental schools. Exact job responsibilities can vary greatly. Dental assistants need to be good with people, flexible, and willing to assume responsibility for different tasks. Most dental assistants spend a lot of time in direct patient contact.
What Qualifications Do You Need to Become a Dental Assistant?
To become a dental assistant, you need to obtain a certification. The primary national certification is the Certified Dental Assistant examination, which is administered by the Dental Assisting National Board.
However, that means you need to complete an accredited dental assistance program. Some dental assistants also receive on-the-job training, in which case you need two years of full-time work experience. You may also need to meet specific requirements set by the state in which you intend to work, which might include licensure or registration.
Our dental assisting program is a three-term program that is accelerated to last only 9 months. Course work is all online, with hands-on training held during the weekends, making it convenient for those who already have a job.
We also offer externships in the Portland area and assist with finding externships near your home. That way, you can become a qualified dental assistant quickly, typically within a year. Most graduates find work almost immediately.
Dental assistants need to be good listeners and compassionate, as they are often the first practitioner a nervous patient sees. You also need to love meeting new people, have a good work ethic, be reliable and organized, and be meticulous with good hand-eye coordination and manual dexterity. You will have to deal with a wide range of people, ranging from young children to the elderly (if you prefer to work with children, you may be able to find work at a pediatric practice). You need to be organized, care about safety, and be a good team player. Prerequisites for the course include basic math and writing skills.
What Are Your Career Prospects?
The demand for dental assistants is extremely high. Most of our students get a job right away on graduation. Dental assistants might also advance to other careers in healthcare. Some become sales representatives with oral care companies, dental laboratory technicians, or office managers in a practice.
It's also possible to get an education as a dental hygienist while working as an assistant, refining your skills further, and getting an associate's or bachelor's degree in dental hygiene. Your dental assistant job will help you get the practical experience you need to become a hygienist and you will already have the other qualities you need, such as empathy and attention to detail. If you are in the right practice, they may encourage you through your education and give you a hygienist job at the end.
You may also take continuing education to become an expanded function dental assistant, which might allow you to do things like taking impressions or applying topical anesthetic.
Other Things You Should Know
Taking a course and getting certification is the fastest way to become a certified dental assistant. While the programs are not eligible for federal financial aid, most colleges (including us) will take payment plans. The course also counts for continuing education.
Pay for certified assistants is above average and you will have no issues finding a great career opportunity anywhere in the country. Some of our students are hired by the practices they do their externship with.
We offer hands-on experience on weekends, which requires 8 hours a week, where you will practice your skills. Our course will also prepare you for the Oregon certification in Oral Radiography, an important skill for a dental assistant. However, you will need to pay for and arrange your certification exam, which is handled by an outside agency. We will help by providing the schedule.
If you are interested in a challenging, well-paying career that is perfect for somebody who is both people-oriented and meticulous, with good attention to detail, considering becoming a dental assistant and check out our Integrated Community Dental Assisting program.