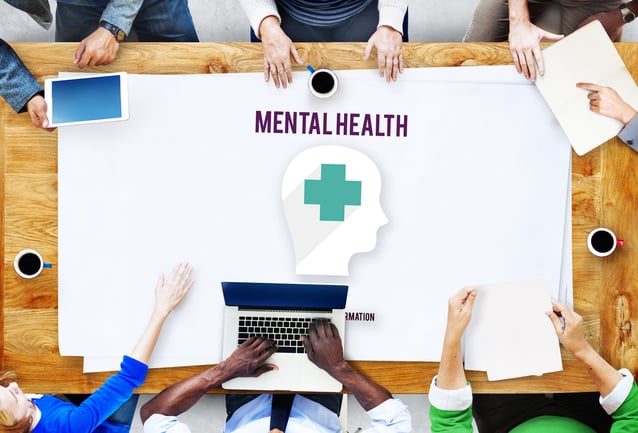 The past couple of years have brought many public health challenges to light, not only with the transmission of COVID-19 but also with the wide range of mental health and addiction challenges facing people in the Portland area. While many people are working tirelessly to remove the stigma of mental health crises, there are still many well-meaning individuals who wouldn't know how to help or what to do if a friend, colleague, or neighbor was experiencing a crisis near them.
One of the ways that companies can support their employees' collective wellbeing and build a more supportive environment is by offering access to Mental Health First Aid training. These courses are certified by the National Council for Mental Wellbeing and led by trained instructors at Portland Community College.
What is Mental Health First Aid?
The coursework in a Mental Health First Aid course is two-fold. You will learn signs of mental illness and problems for yourself to get help before you find yourself in a crisis. However, it's also beneficial for addressing mental health crises in the moment, especially in the context where someone else is having a moment of acute mental health concern and may need your help.
The courses mobilize the best practices from the mental healthcare field to give you simple strategies for identifying, comprehending, and responding to mental illness challenges. Many people assume they'd know the right thing to say in a crisis situation but find themselves freezing up or unsure what would be helpful. Taking this course gives you some tried-and-true strategies for helping others access mental health professionals without trying to become an "armchair psychologist" yourself. That said, a refresher course in Mental Health First Aid can be beneficial for practicing professionals in fields like substance abuse counseling, reminding them of what they've learned in the past or teaching new strategies for handling crises and helping their clients well.
How Portland Community College Offers Mental Health First Aid Courses
While Mental Health First Aid courses come in many formats, Portland Community College makes it easy for Portland residents and those worldwide to access this needed information. With short, one-day formats taken entirely remotely, you can gain life-giving information that could help you with family members, friends, or coworkers who have shown signs of a mental health concern. While you may not put your first aid knowledge into practice, like other first aid courses, knowing how to help is both a source of personal comfort and personal confidence. 
Our trained instructors are certified to teach by the Mental Health First Aid organization, ensuring that you're getting the best and most up-to-date techniques for responding positively and helpfully to the challenges that mental health can create. The course focuses on helping you understand skills that help you, and potentially another person, move through a mental health crisis.
How Mental Health First Aid Courses Can Help With Improving Mental Health At Work
While Mental Health First Aid is less well-known than CPR or physical First Aid courses, the organization's goal is to make it such a common training that people of all kinds receive this helpful information and can step in to help in a mental health crisis. Workplaces with high-stress jobs or interpersonal relationships sometimes tax employee mental health could benefit from requiring this course as a company training. PCC's experienced instructors can deliver the material for Mental Health First Aid with either remote or in-person formats. Not only do employees leave these courses equipped to help if a coworker or client experiences a crisis, but they also leave with more resources for managing and improving their mental health.
Corporate training is key to ensuring your teams have the resources to stay on top of their mental health, especially in high-stress jobs. Offering this training shows care and concern, and a willingness for your corporate culture to grow and evolve with changing times. Team members who sense their employer values their mental wellbeing feel empowered to handle their mental health concerns without fear of hiding them or feeling unusual or alone.
If you want to learn more about current offerings in the mental health arena from Portland Community College, visit our website for Mental and Behavioral Health. To learn more about how Portland Community College can customize corporate training, visit our Customized Training page. As our world changes and new information about improving mental health comes to light, PCC is committed to journeying with our students and helping them find the resources they need to feel equipped and safe.