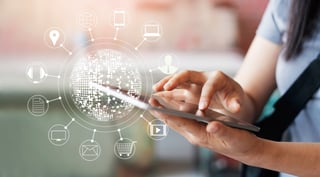 With 70% of the world's purchasing power existing outside of U.S. borders, global trade is an appealing prospect even to small businesses. This is especially true when you recall some of the data about how international trade is good for Oregon's economy in general, as well as small businesses specifically. But it's important to remember that being a great choice for some companies doesn't make global exportation the right choice for your business. That's why we've gathered three benefits and risks to help you determine how international trade can impact your business.
Benefits
Here's a quick snapshot of some of the benefits you'll experience when you export goods internationally.
Expand Your Business
One of the biggest benefits is that you grow your customer base, providing new opportunities for people to buy your products and services. According to the Institute of International Economics, companies participating in global trade not only grow more quickly than those that don't, they're also less likely to go out of business.
Less Competition
While this isn't a guarantee, depending on your product and your chosen market, your competition from within the U.S. will be slim. That makes your offering unique, which lets your business stand out from any local competition. Even if you face stiff competition domestically, this provides a wealth of opportunities.
Early Payments
Many international distribution agreements involve a payment up front. That means that when you've chosen the right trade partners and the right market, there's less direct risk involved for you.
Risks
This is only a snapshot of some of the risks involved with taking on global exports. Be sure to fully educate yourself so that you understand the full risks of participating in this level of trade.
Communication Can Be Difficult
Language barriers can be tricky, especially when there's the diminished opportunity for face-to-face interaction. Sometimes, even when the same terms are used, they don't mean exactly the same thing, which can lead to complicated misunderstandings and costly mistakes.
Legal Differences
Every country has different laws regarding how products must be made and varying regulations about how they should be imported and taxed. It can be difficult for a small business owner to keep track of this kind of international law, especially when looking into exporting to more than one country.
Currency Exchange Rates
One thousand may sound like a lot of money, but the currency here is critical — for instance, one thousand yen is worth less than $10 US. Misunderstanding the differences in currency and their exchange rates can lead to costly mistakes, and exchange rates are changing all the time along with each nation's economy.
Of course, these risks don't have to bar your small business from international trade. They can be diminished, if not avoided altogether, if you take the time to prepare yourself for what's ahead. Earlier this year, we shared ways to get started exporting, and you can always take advantage of the resources available from the Export Council of Oregon, the OSBDCN Global Trade Center, or the U.S. Small Business Administration. At PCC CLIMB, we also offer a Global Trade Management Program that provides in-depth training and assistance to help you make the best choices in terms of profitable markets and much more.
Remember, while global trade can provide some great benefits, international trade can impact your business negatively if you don't account for the risks. Once you've weighed the pros and cons of exporting, you'll be ready to make the right decision for your company.