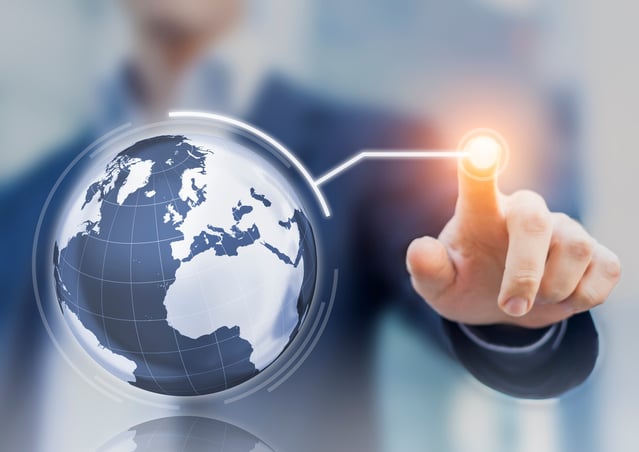 Each May is World Trade Month, which makes now the perfect time to explore the role global trade plays in the economy. Given 95% of the world's population and 75% of consumers reside outside the US, global trade is responsible for a significant number of jobs as well as business stability and growth. This isn't restricted to major corporations either; small businesses actually have a lot to gain from exporting. Today's post will highlight some of the reasons and the ways Oregon small businesses can get involved.
May Is World Trade Month
World Trade Month is a federal designation designed to promote international U.S. trade relationships and support U.S. businesses of any size that want to participate in global trade (selling to customers outside the US) by exporting goods and services around the world. It's a time when organizations like the Federal International Trade Administration and the Minority Business Development Agency publicize economic advancements, celebrate the people and businesses that are successfully growing international business growth, and provide resources to help businesses successfully begin or manage exportation. In Oregon, the Oregon Consular Corps holds an international business awards and scholarship gala — it kicks off World Trade Week on May 15, 2017, at the Portland Art Museum — and the Export Council of Oregon will host a variety of local trade events, including a variety of seminars designed to educate business owners.
How Global Trade Impacts Oregon
While U.S. exports in 2015 totaled more than $2 trillion across 58 international markets (or nearly 13% of the US GDP) and supported 11.5 million jobs, those numbers can often seem too big and too broad to really mean something to a small business. To bring that a little closer to home, Oregon global trade exports totaled about $22 billion in 2016, supporting 81.5 thousand jobs in 2015. That's thanks to the more than 6 thousand companies exporting out of Oregon in 2014. Of course, international trade goes both ways. In 2014, nearly 53 thousand Oregonians were employed by foreign-owned companies. That's significant positive impact that lifts all of Oregon into a better economic position.
Why It Matters to Small Business in Oregon
It's a mistake to believe that small business has no place in exportation. More than 90% of the world's consumers live outside of the U.S., yet less than 1% of the 30 million businesses nationwide bother to participate in international trade. But most of the businesses that do take on global trade are small and medium-sized exporters (SME). In Oregon, 89% of SMEs represented 89% of the goods exported (i.e., 5,390 SME businesses) and 30% of the goods export value in 2014. Plus, exporting companies are 8.5% less likely to go out of business. That means that there's significant potential for every small business to tap into all those positive impacts.
How Oregon Small Business Can Enter the Global Marketplace
Fortunately, it's never too late to educate yourself on international trade options and take advantage of the resources and assistance available for SMEs. Here's a few ways an Oregon small business can get started:
Global Trade Management Program

at PCC CLIMB Small Business Development Center: This 10-week program provides instruction on global management, global marketing supply chain management, and trade finance taught by experts in these key areas. The program helps you to understand the regulations and logistics for your product or service and find profitable markets for your business. You'll also get one-on-one advice from Certified Global Business Professionals.

OSBDCN Global Trade Center

: Dedicated to helping small businesses in Oregon go global, the Oregon Small Business Development Center Network (OSBDCN) Global Trade Center provides an export readiness assessment, export planning, and Euromonitor global research at no cost. These services helps you develop an export plan through trade advising,

Certified Global Business Professional Exam Prep

program:

The

Certified Global Business Professional (CGBP) credential offered through NASBITE

is highly sought-after and respected in the international trade industry. The exam prep program prepares professionals to take the CGBP exam.

Euromonitor Market Research: Euromonitor is a market research tool Fortune 500 companies use to assess international markets. This tool is available to small business clients through the OSBDCN Global Trade Center at no cost.

Export Council of Oregon

: As a U.S. District Export Council, the ECO sponsors seminars for private companies as well as government organizations throughout Oregon. To that end, , it offers "Export University" seminar classes.

U.S. Small Business Administration -

Exporting

: The premier federal resource and advocate for small businesses in the U.S., the SBA provides a preparedness questionnaire and connects businesses with training and counseling services. It also provides information and assistance for financing.
In Oregon, global trade plays an important role in the economy, and it can offer small business a host of benefits. Take the opportunity this May to explore the opportunities and resources provided by World Trade Month. And don't forget that the OSBDCN Global Trade Center can help you develop the tools you need through courses, mentorship, and networking.