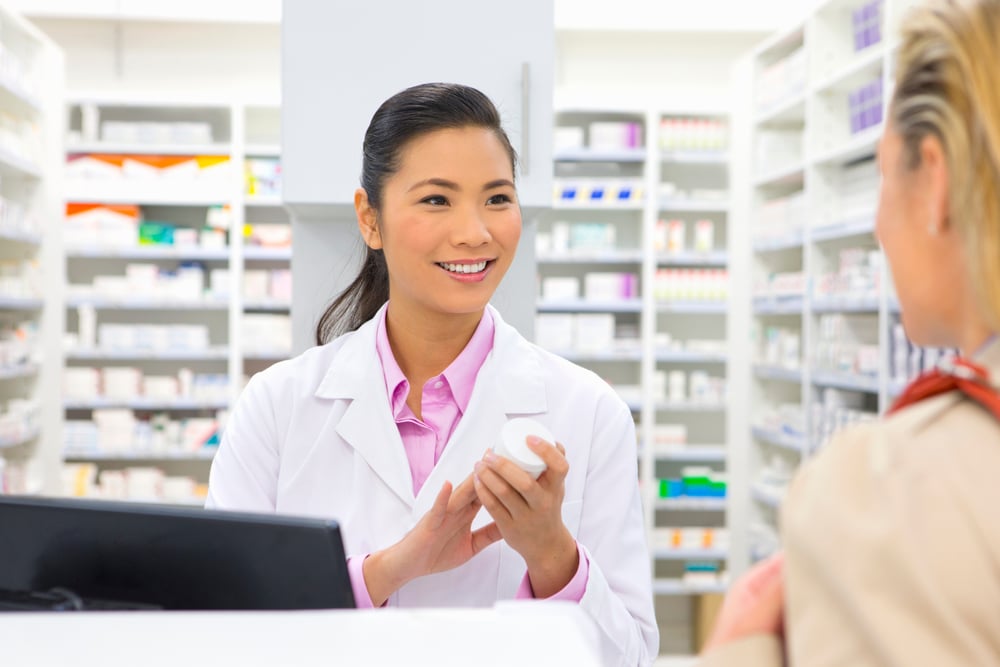 Pharmaceuticals is a growing field, and the demand for pharmacy techs is high. It is a field that never has a shortage of work. However, just like in other industries, current events have made working in the pharmacy even more difficult than it was before.
Right before the pandemic started was not the easiest time to graduate from our Pharmacy Technician Program. For Judy, however, it all worked out. In fact, she quickly got a job at a local Fred Meyer pharmacy while many pharmacies still had a shortage of technicians.
How Judy Learned to be a Pharmacy Tech at Portland Community College
Our Pharmacy Technician program is a two-term 160-hour course that prepares students to take the Pharmacy Technician Certification Exam, a national certification recognized by pharmacies and healthcare systems throughout the United States.
It is a hybrid course with some online and in-classroom components. There is no clinical or internship, but those interested can get one through our Career Pathways program. Applicants meet requirements in math and writing, pass a background check and drug screen, and you must be at least 18.
During the first term, students like Judy learn skills like basic pharmacology, how to use information systems, and how to do measurements and calculations. The second term also includes studies like processing and handling medication and patient safety. All of these lessons are designed to prepare students to take the certification exam and use their newfound skills on the job.
The program also prepares students to have the right soft skills to last in a potentially high-stress career. The goal is for all our students to get certified, enter the workforce, and succeed.
Why Become a Pharmacy Technician?
As mentioned before, pharmacy technicians are in high demand. As our population ages, the need for competent professionals to supply medication increases. Pharmacy techs are constantly needed to provide medication, give advice to recipients, and support pharmacists in protecting patients from drug interactions.
Pharmacy technicians can also work in more than just local drug stores. If you don't want to work in a retail setting, you can work in a variety of other environments such as hospitals, clinics, mail-order pharmacies, or nursing homes.
Another good reason is the wages being a pharmacy technician offers. Typical starting pay for a pharmacy tech is $18 an hour, and it can often start higher. While pharmacy techs often must work evenings, weekends, and nights in some environments, the high pay makes it worth it.
Like Judy, pharmacy technicians need to have good skills in math, using computers and data systems, dealing with people, and remembering details. You need to be accurate and meticulous, even at speed and under pressure, and not find the job to be massively stressful.
Other Things to Know About Becoming a Pharmacy Technician
The cost of taking PCC's pharmacy technician program is relatively low, and most students pass the exam on the first try.
While it is possible to be trained as a pharmacy tech on the job, employers will always favor those who have certification. Pharmacy tech is also not a dead-end job. With further training, pharmacy technicians may be promoted to supervisory roles. Those working in large health systems may also have opportunities to specialize, such as by becoming a nuclear pharmacy technician.
Some technicians choose to take further professional training while they work and become pharmacists, making this program an accessible stepping stone for familiarizing yourself with the field in a way that's affordable. Judy's happy at Fred Meyer for now, but she knows she has options for growth in the future.
Judy recommends becoming a pharmacy technician. Getting the pharmacy technician certification is the simplest way you get these high-paying, plentiful jobs that can help you support your life and move forward in your career.