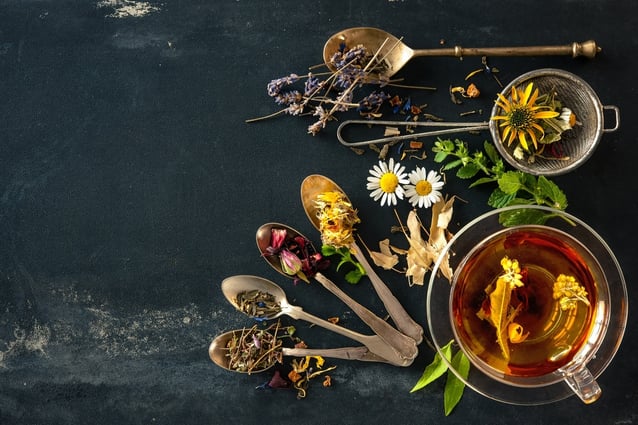 Had just about enough of the annual flu ritual, with that stuffy nose, aching muscles and pounding head? Not to mention the days of misery and cartons of Kleenex. How nice would it be to tell the flu to bug off courtesy of some great remedies from herbal medicine?
Herbal medicines have long been known to bump up immunity—sometimes pretty spectacularly. And hardly a day goes by that we don't see some new study verifying herbs and their immune boosting benefits.
Cold and influenza are viral diseases. Unfortunately, much as we'd like to, no has figured out a way to assassinate a virus, so the only way to vanquish these intruders is to encourage the body's own immune system. And many herbs can be very encouraging, so don't hold back—all is fair in bugs and war.
Hot Off the Pages of the Research Journals
Let's start with Andrographis (Andrographis paniculata, leaf and root), a shrub found throughout Asia.
The scientific literature includes well over 250 Andrographis studies since the 1970s, including many studies since 1990 that have repeatedly shown this herb to reduce the symptoms and duration of cold and flu. Scandinavians have been benefiting from this herb for well over 20 years.
In clinical trials, Andrographis reduced the symptoms and shortened the duration of colds. Patients who took Andrographis had colds were less intense than usual, reported less sick leave and they got well sooner. A randomized double blind study involving 152 patients with pharyngotonsillitis determined that a week of Andrographis was as useful as the drug acetaminophen for fever and sore throat symptoms.
A Phytomedicine study reported that an Andrographis combination significantly reduced the duration, frequency and severity of attacks in a flu-like fever illness. In a Russian randomized clinical trial for the common cold, the Andrographis group had less severe symptoms, especially runny nose and congestion, along with accelerated recovery time. British and Thai researchers concluded that Andrographis is better than a placebo for the symptoms of uncomplicated upper respiratory tract infection.
A 2009 study found that the main active constituent, andrographolide, is a potent antibacterial. Also in 2009, an Indian study said that an Andrographis extract significantly bumped up immune response.
Andrographis is often included in cold relieving combinations, accompanying herbs such as Echinacea and lemon balm.
In the early stages of a cold, take 10-15 grams per day as tea or capsules, or up to 20 ml per day of the tincture.
Siberian Herb Health
The good news is that this immune superstar works even better with Eleuthero (Eleutherococcus senticosus, aka Siberian ginseng) root, a Chinese herb that prevents respiratory tract infections and provides energy and vitality. A 2007 study called out Andrographis as one of a few select herbs for cold and flu and found that a combination of Eleuthero and Andrographis halved the number of flu patients who progressed to complicated influenza, and reduced disease duration by 30%.
For a long term immune boost, use 2-3 grams per day of powdered root in capsules.
Astragalus to the Rescue
It's not often that a powerful immune herb tastes like delicious soup. Fortunately, Astragalus root breaks the mold. This respected root (Astragalus membranaceus) increases stress adaptation and antiviral defense. Many studies have found that it amplifies immune function, including protection against Coxsackie virus, a flu-like virus that infects children. Astragalus intensifies phagocytosis, in which white cells eat up invaders, and this increased defensive activity has been measured as lasting up to 72 hours.
Astragalus contains immune enhancing polysaccharides, similar to those in Echinacea and shiitake mushroom, and saponins, hormone-like compounds, which confer many of its benefits.
This remedy is especially great for kids as both an acute antiviral and for long-term immune boosting, thanks to its sweet, buttery taste. Make into a tasty soup.
Good for Children
In Chinese herbalism, Isatidis root (Isatis tinctora- Ban Lan Gen) is synergistic with Astragalus, and the two are commonly used in combination. Isatidis is a broad spectrum antimicrobial, with activity against many types of virus and bacteria, and, according to Chinese herbalists, it strengthens the lungs. Studies find Isatidis polysaccharides increase total white blood cell and lymphocyte counts and that the herb increases natural and acquired immunity.
Danish researchers looked at Isatidis for bacterial lung infection. Compared to the control group, the herb shrank the incidence of lung abscess, reduced the severity of lung pathology and reduced the inflammatory response in the lungs.
To treat a cold, use 10 grams in a tea. For long term immune strengthening, take 2 grams daily in capsules. Gan Mao Ling, a reliable Chinese herbal classic formula, contains isatidis, along with a combination of other herbs, for symptoms of fever, chills, swollen glands, sore throat, and stiff neck- a first strike strategy for a cold! At first symptoms, take 5-10 tablets, and continue 3 tablets per hour as needed.
OK, so now you've sniffed around and stocked in some great bug zapping herbs. Your immune system's open for business. And it's playing serious defense. Who cares that the air around you is a virus infected swamp? Go ahead and inhale—with pleasure.
Learn more and sign up for an Herbalism course today.