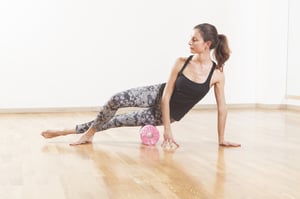 Many CLIMB programs help small businesses to expand opportunities and develop additional revenue streams. One of our latest workshops enables body and movement professionals to teach individuals and group classes the sports massage techniques of soft tissue release.
Soft tissue release techniques are safe and effective manual therapies designed to ease pain — for both you and your clients. Whether you are a massage therapist or athletic trainer, a yoga instructor or a nurse, you can use these techniques in your practice and even on yourself to treat a wide range of painful conditions.
How Soft Tissue Release Works
Soft tissue release techniques focus on the fascia, tendons, ligaments and muscles. Using stretches and soft pressure, these techniques help tight tissues relax and release, easing pain. You may perform soft tissue release with just your hands or with tools such as trigger point balls, foam rollers or massage sticks.
Soft Tissue Release Tools for Self-Care
Soft tissue release tools are especially useful for self-care. Because you use your body all day to ease the pain in others, you likely gather tension in your shoulders and back. You can use soft tissue release tools at home to relieve your own pain after work is over.
Release balls are plastic balls that come in many different sizes and textures. In most cases, you lie down on these balls, placing them in areas where you carry tension. By putting your weight on the balls and rolling to stretch tight tissues, you can release pain.
Foam rollers also come in many different sizes and levels of softness. These rollers can be placed under your back, shoulders, legs and other areas of the body to gently stretch out tissues.
Massage sticks, or trigger point wands, come in many different designs. They may be straight or curved, smooth or textured. These sticks make it easy for you to reach pain points on your own back and shoulders and apply the right pressure for soft tissue release.
Benefits of Soft Tissue Release for the Whole Body
Whether you are using soft tissue release techniques on yourself or your clients, you can care for pain and health conditions in areas throughout the body.
In the upper body, soft tissue release can help with:
Neck and shoulder pain

Thoracic outlet syndrome

Frozen shoulder
In the lower body, these techniques can relieve issues like:
Low back pain

Runner's knee

Sciatica
In the extremities, you can use these treatments for:
Carpal tunnel syndrome

Plantar fasciitis

Arthritis in the hands or feet

Jaw pain, including TMJ
These versatile techniques can help you add new treatments to your practice and offer your clients more noninvasive options for pain relief. You'll also be able to care for yourself at home, ensuring that your pain doesn't interfere with your work.
Any healthcare professional can use soft tissue release techniques to improve their offerings to clients, expand their services and increase their potential income. If you are ready to add soft tissue release to your practice, you can take the Portland Community College Soft Tissue Release Tools course to get started. This specially designed three-day course helps healthcare professionals gain the skills they need to successfully use soft tissue release to manage their clients' pain — as well as their own.