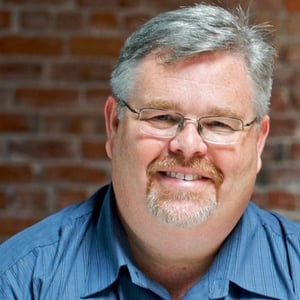 Dr. Sean Harry is an instructor who has worked at the CLIMB center for over four years. Harry teaches early business start up classes through the Small Business Development Center. Dr. Harry has helped many small business owners with their start-ups since the recession, and now he wants to help you! Read more about Dr. Harry below.
Why do you teach?
I have been a teacher of adult learners all my life. I really enjoy helping people discover new things. My favorite class is "Marketing, Marketing, Marketing". We make the process of marketing simple for small businesses and help them create their Best Little Marketing Plan.
What is your real world experience?
I'm one of those people who has done a lot of everything. I started out in the ministry and moved to non-profit management. Then I worked for an online school where I helped recruit students into the University and managed groups of Admissions Advisors. Following that I started my own company as a Career Coach - helping people figure out what they want to be when they grow up. When the economy hit the skids there were no jobs. My clients started asking if I could help them start their own business. Since I had started 2 businesses in my life and had a Master's degree in business I said, "Sure! Why not?!" I've been helping people turn their dreams for building their own company into reality ever since.
What is your favorite part about being an instructor?
I love it when the lights come on. When a concept clicks and I can see student's faces as they really understand what we are working on.
Tell us about a time that you were most proud in your role as an instructor.
About 6 months after Marketing class I spoke to a client who had taken the class. He implemented the recommendations from class and his business was taking off!
What kind of transformation do you see in your students during a course?
They often come in thinking like employees. They leave thinking like business owners. WIN!
How do you think the courses you teach affect students' lives and/or careers?
Small business owners have a dream. They are not just doing a job. The business is their life. Everything we do in class helps them turn their dreams into reality.

What skills are needed in order for someone to achieve success in small business?
Small business owners need to be able to be creative and take risks when they start a business. Not big risks. Calculated risks. The biggest challenge is to get out of their own way.

What do you think students struggle the most with in this course or field?
Fear of failing.

How do you help them with this?
It's a proven fact that when you start a business you will fail, and fail, and fail again. I help them fail fast so they can move on to the next step.

If you could give one piece of advice to all your future students, what would it be?
Have fun!

How do you keep yourself knowledgeable and up to date on trends and industry standards in order to deliver the best quality of education?
I read about one book on small business every two weeks. I go to a one or two day long training at least twice a year. I attend a national conference every year. I try to take a PCC class at least once or twice a year as well.

What do you think your students value most about CLIMB?
It's easy to get to and not too big.

What do you do for fun?
Ride bikes with my 8 year old granddaughter, hike in the Gorge, read, and nap.