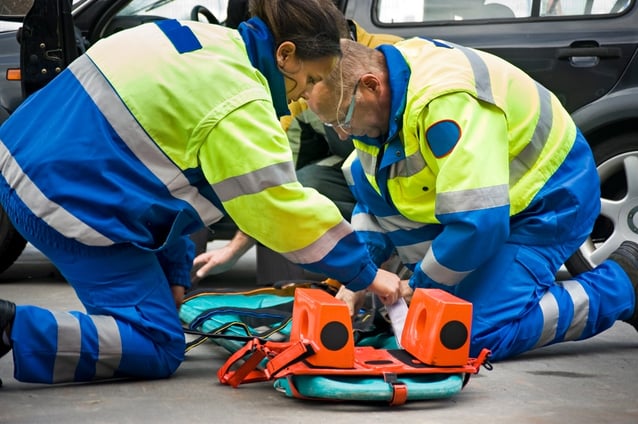 Remote and industrial paramedics serve patients in remote, industrial and maritime locations. These locations don't have easy access to hospitals or medical care, making the remote paramedic essential to health.
Remote paramedics might provide routine, non-emergency care as well as complex emergency treatment in life-threatening situations. These paramedics are considered mid-level, advanced providers who can administer injections, give medicines and perform lifesaving procedures.
Remote paramedics are needed in locations all over the world for medical help. Remote medic jobs are available in several industries, including:
Tourism: Hotels, cruise lines and hiking/adventure companies all hire medics and nurses to care for their staff and guests.

Energy: Workers in hard-to-reach locations, such as on off-shore oil rigs or in distant mining areas, often need help faster than it can arrive. Paramedics in these locations can provide care until patients are transported.

Relief work: In parts of the world devastated by disaster, hunger or poverty, remote paramedics offer much-needed medical care. They also often serve as emergency care coordinators, maternal and fetal care coordinators and community health specialists.
What's It Like to Be a Remote Medic?
Remote medics serve a vital healthcare role that many people find fulfilling. However, the job can be demanding, especially in high-intensity emergency situations. To be a remote medic, you should love working with people, be a strong problem solver, adapt quickly, and be flexible. You could be on-call virtually 24 hours per day in case of an emergency. Certain positions, particularly with relief organizations, can be in stressful, dangerous areas of the world.
More and more remote medics are needed every day to serve internationally. The field is constantly in need of trained, experienced professionals. You may be a strong candidate for these jobs if you:
Have a strong understanding of spoken and written English as well as another language

Want to learn, share, teach

Possess strong teamwork skills

Can function in a very disciplined environment

Are reasonably strong both physically and mentally
While the work is certainly challenging, remote paramedics are invaluable to improving health for people across the world, whether they are miners, tourists or refugees.
Where Do I Apply for a Remote Medic Job?
If you think a remote medic job is right for you, you can look for jobs through sources such as:
Recruiters: Certain staffing and recruiting companies specialize in helping place medical personnel with large companies.

Safety and industrial company job boards: You can find jobs listed directly on employers' sites. You may check with oil companies, mining companies or other industries that operate in locations far off the beaten path.

Relief organizations and non-governmental organization career sites: Organizations from around the world are constantly looking for medical help. These organizations offer a wide range of care, from improving health in third world countries to responding to disaster situations.

Hospitality organization websites: Hotels, cruise lines and adventure groups, particularly those in foreign countries, have a need for remote paramedics to serve their guests. Check their websites for job listings that may apply to you.

RemoteMedicJobs.Blogspot.Com.

This blog is dedicated to listing remote medic jobs located around the world. Check back frequently for updates.
You can also download the PCC CLIMB Center cheat sheet of employers who often hire remote medics.
Remote medic work gives you the opportunity to see the world while helping others. With the right advanced training and skills, you can find the right remote medic job for you.