The following post was written by Melody Finnemore and originally published by the Oregon Dental Association. It features IHP's Professional Development and Dental Health Education Coordinator Stacy Bone and is republished here with permission from the ODA.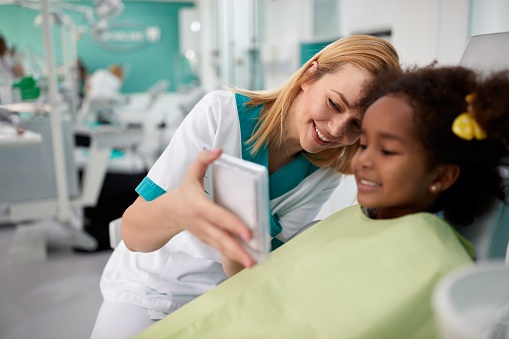 NEARLY 65,000 MORE DENTAL ASSISTANTS WILL BE needed by 2026, up from the 332,000 who were employed in 2016. The profession's 25 percent growth rate is faster than the average for all occupations, with the aging population and ongoing research linking oral health and general health continuing to increase the demand for preventive dental services, according to the Bureau of Labor Statistics.
With average pay of $18.09 per hour ($37,630 a year) and a plethora of full-time work opportunities to choose from, it would seem that more young people would clamor for the chance to work as a dental assistant. And, yet, they aren't.
The reasons for this dynamic are varied and are largely based on speculation, though dental schools and organized dentistry associations including the ODA are exploring the issue.
Longtime dental assistant Mary Harrison, CDA, EFDA, EFODA, FADAA, is involved with several of the organizations and said it is a common theme in professional conversations these days.
"I am sure several topics have come to light," she said. "It might be the fact that the economy is better and there are many other positions available, and the topic of pay and benefits is another issue." she added that the Dental Assisting National Board is researching the issue, among others.
Stacy Bone, professional development and dental health education coordinator for Portland Community College's Institute for Health Professionals, said dental assisting is not marketed at high schools as a career, but more as a pathway to becoming a dental hygienist or dentist.
She noted that people can enter the profession as a dental assistant without any formal education but must take courses and obtain certificates in order to expose X-rays and perform expanded duties in Oregon. However, the career does not require continuing education to maintain certification, as is mandated for hygienists and dentists.
Bone also acknowledged that four-handed dentistry instruction in dental schools has been lacking in the past 10 to 15 years as Dental Auxiliary Utilization Programs have been cut.
She also often hears that the pay is not a living wage so dental assistants must have a second job or rely on a spouse or partner to contribute to afford to live.
Harrison and Bone agreed that the role of dental assistants has changed in myriad ways, from expanded functions and responsibilities to working with technological advances and keeping up to date on materials options.
"The different types of dental practices — single, group, corporate — those changes alone are huge in the responsibilities that are expected for staff in both areas of the office, front and back," Harrison said. "Some offices have a person responsible for the cleaning and sterilization of instruments, and assistants in charge of ordering instruments and supplies. These all affect the assistants."
She noted that, in addition to more responsibilities, challenges for dental assistants include health issues such as back problems and hearing loss and less time to do more work.
"To me, going back several years, the dentist would encourage membership in the dental assistant association and that being a bonus by paying the dues and for all continuing education," Harrison said. "Times have changed, and most young assistants do not have any desire to join or attend meetings. That is sad to me, the loss of networking with other professionals, learning from each other about new materials, or what to do when a problem comes up, and understanding and sharing experiences and helpful hints on all subjects in the dental office."
Bone, who oversees PCC's Integrative Community Dental Assistant program, said the college
is seeing positive results from the program. Although it is difficult and time-consuming, it allows students to work and study mostly from home. The externship begins in Term 1 and adds to the students' confidence right from the start.
"It's more like a workforce training, which dental assisting is perfect for. They are still qualified to apply for most DA positions in Oregon when they've completed the program," she said.
PCC hosts several career fairs throughout the year that are open to high school and college students to promote the dental assisting career. Its website highlights dental assisting as a career and the programs it offers. And its media department is in the process of creating a video that focuses on the dental assisting profession and its program. The video will have a three-minute version and a one-minute version, with the longer video used on the website and in formal presentations and the shorter version featured on social media, Beach said.
PCC's health admissions office also holds several "information sessions" each term where the career of dental assisting and the PCC Dental Assisting program, as well as its other dental programs, are presented to students entering the field.
Harrison, Bone and Beach shared several rewards people can enjoy in dental assisting, from working with entire families who are patients to "I have several come to me and give me a hug and say, 'Oh Mary, I am so glad you're here. I could not do this without you!' That pretty much says it all!" Harrison said. "The office friendships that are made, the fun times spent together and knowing it is just plain fun to get up and go to work in the morning!"
Bone said a career in dental assisting provides an opportunity to work for someone "who respects you, relies on you and rewards you," as well as the ability to help a dentist get through complex procedures. Other benefits include "knowing you are helping to make sure the patient feels comfortable and that they know you and ask you more questions than they do the dentist," she added.
Beach said she enjoys seeing students' progress from their first day of school to graduation. The rewards of teaching also include helping students overcome challenges and grow in confidence, professionalism and sense of pride. Students don't always anticipate what comes next in a procedure and so to work with them and see them anticipating what the dentist is going to need next for a smooth, seamless procedure is especially gratifying, she said.
In addition, watching a student become comfortable with dental procedures and terminology in such a way that he or she can encourage and calm the patient is very validating to teachers. When the students can show empathy and help patients become comfortable in the dental office, then the instructors know that they will be welcomed team members when they graduate, Beach said.

* * *
Click here to review the original piece, published by the Oregon Dental Association.

For more about IHP's Integrated Community Dental Assisting program, or to sign up for related email updates, please visit the Integrated Community Dental Assisting Program page.