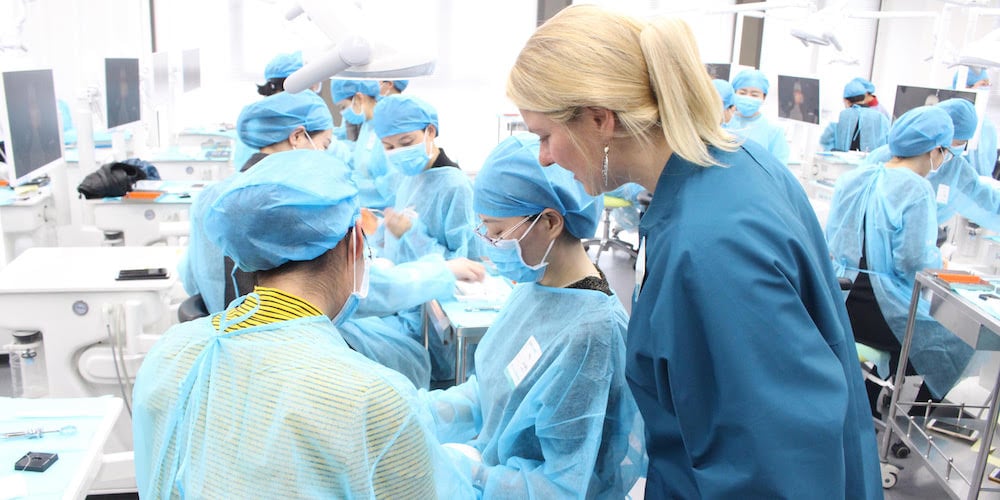 Earlier this year PCC employees Stacy Bone (Institute for Health Professionals) and Ginny Jorgensen (Integrated Community Dental Assisting Instructor) traveled to China with A-dec, a leading dental equipment manufacturer located in Newberg, Oregon. Bone said her goal was to help educate and encourage dentists to utilize the benefits of having a dental assistants working chair-side, a practice that isn't yet common in China. Bone and Jorgensen connected with Chinese audiences and shared best practices during demonstrations for prospective dental assistants. We recently caught up with Stacy to learn more about the trip and what she learned about Chinese culture and dental practices.
First, tell us about your expertise!
Ginny is a Certified Dental Assistant (CDA), Expanded Functions Dental Assistant (EFDA), Expanded Functions Orthodontic Assistant (EFODA), holds an Associate Degree in Professional Technical Teacher Education and has 25 years of teaching experience.
I am an Expanded Functions Dental Assistant (EFDA) with 15 years experience as a dental assistant, plus 3 years working at PCC developing the Integrated Community Dental Assisting program and Dental Health Education.
We have also both developed a relationship with A-dec over the years doing product development and training.
Why China?
China has many people who need dental care, and A-dec builds equipment and furniture that enhances the ability of dentistry to be performed on dental patients. Because A-dec has an assembly factory and a sales force in China, Ginny was asked to provide presentations, training and hands-on workshops to introduce the concept and benefits of four-handed dentistry to Chinese dentists. Four-handed dentistry is the practice of working chairside with a dentist, preparing, manipulating, passing dental materials, instrument exchange, suctioning and keeping the oral cavity free of debris during procedures. I assisted her with all of the hands-on workshops. Our primarily focus was to offer trainings exploring best practices and techniques, and improving the efficiency of dental assistants and the support they provide for dentists.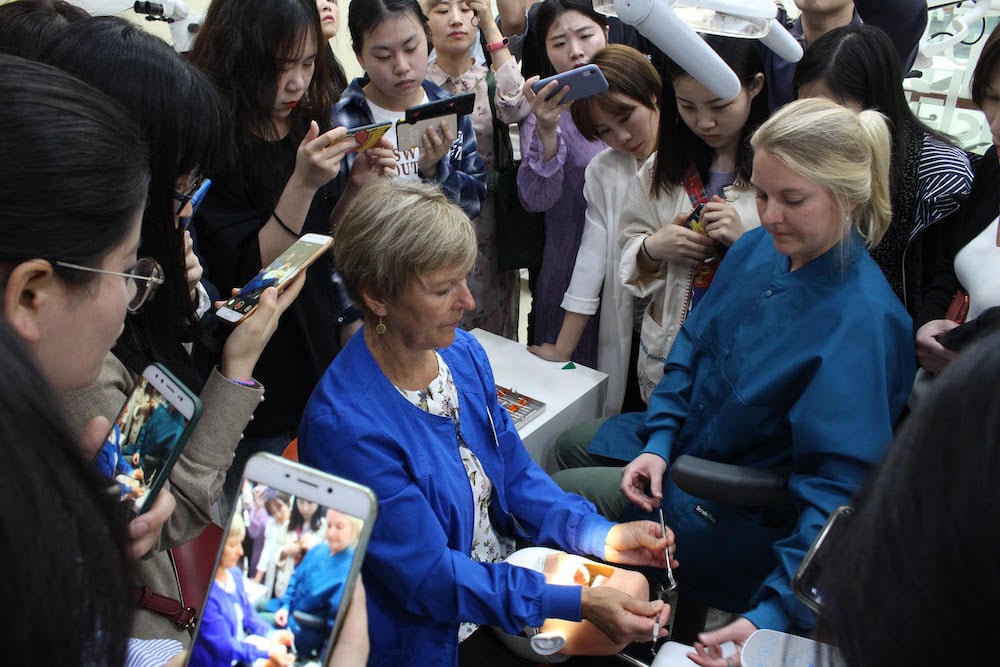 Are there any cultural differences between Chinese and American dental offices?
The Chinese people seem to be extremely hard-working. They work long hours and live in a society that has very limited personal space. But we didn't witness many other cultural differences. There seemed to be an equal amount of male and female dentists. They have beautiful dental offices and even hospitals which have over 500 dental chairs – and appear to have similar equipment and materials that we do in the U.S. That said, practices like four-handed dentistry can improve and increase the amount of patients that can be cared for in a single day.
What challenge were you addressing in your workshops?
Chinese dentists are taught to work alone without a dental assistant. Their role is limited and they typically do not engage in the practice of four-handed dentistry which increases the time required to complete dental procedures. China recognizes this and wants to incorporate four-handed dentistry in their country. Ginny's presentations and workshops were developed as an introduction to help them understand, learn the concepts and to see the benefits.
Why doesn't China currently use dental assistants?
The problem exists because the concept of four-handed dentistry has not been introduced until recently when dental teams from China have visited the U.S. to observe dental teams in practice. There are no recognized dental assisting programs in China at this time, although they do have Dental Nurses who are trained in medical and can be hired to help in dental practices. Without dental assisting curriculum and education programs it is going to take a long time to implement these concepts and to be able to become efficient.
What do you perceive as the solution to the problem?
Chinese dental schools need to begin teaching dental students the four-handed dentistry concepts. Dental assisting programs must be created and made available.
How did the trip relate to your work at PCC?
It is beneficial to witness dentistry being performed outside the United States; to see the differences and commonalities, and to teach students who have had no experience or concept of dentistry as we have in the U.S. It helps to reimagine and improve our own instruction. I can share this perspective with PCC students, and it enables me to develop better curriculum that covers every detail thoroughly.
Are you going back to China again soon?
There may be an opportunity in the future but that has not been decided as of yet. I really enjoyed the opportunity to connect with and educate young women in China. We hope to go back in the near future to help continue to build the educational programs for dental assistants. This was an excitingly eye-opening experience where we learned a lot about the Chinese culture and the dental community in China – and a little about our own as well.
What's the next PCC course that you're excited for? Who would be a good applicant?
We look forward to the next Integrated Community Dental Assisting cohort! Good applicants are those who demonstrate good "people skills", communicate well, are masters at time-management and organization and are interested in health care. Dental assistants work hard and must support their dentist while at the same time take care of the patients' needs. Multitasking is an understatement when working as a dental assistant. For more dental course options, visit our landing page.