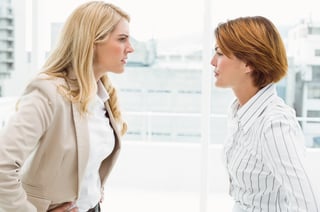 Workplace drama, it's something we've all encountered but the way we deal with it can go a long way in defining how future adversity and conflict will be handled.. Whether it's a disgruntled co-worker, a manager with personal issues or simply a work-related disagreement that's gone too far; many struggle with how to combat workplace drama.
That is why we're presenting you with the following 10 tips and tricks on how to create a drama free workplace that every professional should follow in order to to keep everything on an even keel.
1. Address Issues Immediately
If you notice employees engaging in gossip or creating rumors that might be harmful, the worst thing you can do is wait. Address any issue as you see it happening or shortly thereafter. The main thing is to stop rumors before they can get out of hand, or better yet, prevent them entirely.
2. Define a Policy
To ensure a drama free workplace, you need to make sure that employees know what the consequences are for their behavior. Display the policy publicly, and discuss it with each employee to make sure it's clear.
3. Document Drama and Instances
If anything does occur, keep a record of all incidents and instances. This will help you better reference events for individuals that might display a certain pattern of behavior. Good documentation allows you to take any corrective action that might be needed.
4. Make Sure Disputes Get Properly Resolved
You'll want to oversee dispute resolution and make sure that the proper steps are being followed that allow all parties to move forward in a positive manner. Don't leave anything lingering when it comes to drama and disputes.
5. Don't Respond in Anger or Feed Into the Drama
The worst thing you can do in response to workplace drama is to lash out. Always be professional, especially if you're in a leadership or managerial position. Don't strike back at other employees or engage in arguments, as this will only serve as fuel to the fire.


6. Know When to Get Help
Sometimes tackling workplace drama is too big of a task for one person to handle. If you're involved in a dispute, know where and how you turn for the proper assistance.
7. Treat Everyone Equally
Resist any temptation to give anyone special treatment or "let things slide" for a co-worker that you like. This is a sign of weakness and inconsistency, especially for leaders. It's essential that everyone be treated equally with regards to the process and corrective actions.
8. Stay Professional at All Times
If you're in a management position, you'll want to keep the light hearted chatter for a more appropriate occasion outside of the office. Send a clear signal that you're a leader, no matter how relaxed your office culture may be. Resist the urge to complain or badmouth people or events in the workplace, even if they might be deserved.
9. Be Cautious Online
In today's world, what we say via email, chat, and social media is captured forever and might be used to incite drama somewhere down the road. As a best practice, don't allow co-workers into your personal online spaces, like Facebook. While it's fine to link up professionally on LinkedIn and Twitter, keep the chatter there strictly professional.
10. Have a Healthy Outlet Outside of Work
Not having hobbies outside of the office — like exercise or playing a musical instrument — can lead to tension building up, which might manifest in the workplace. Pent up stress can lead to lashing out at co-workers or gossiping in order to release the stress. By making sure you have regularly scheduled recreational activities outside of the office, you will help prevent this (and the associated drama) from occurring.
So there you have it, how to create a drama free workplace in ten simple and easy ways. If you as a professional take these practices to heart and focus on positivity, you'll be able to keep the drama outside of the workplace, where it belongs.