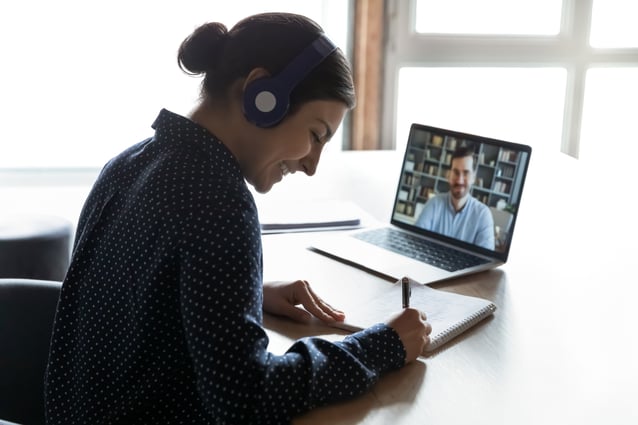 Portland Community College offers various online non-credit courses through the Institute for Health Professionals (IHP) this spring. These courses help Portland students and people worldwide continue their education, whether they are pursuing roles in a yoga teaching or clinical research setting or are adding skills to an existing resume to pivot within the healthcare field. The world of healthcare is a wide-ranging one, and finding your place in it is easier with access to engaging, relevant spring online classes from PCC's Institute for Health Professionals.
Patient Access Specialist
Among the career advancement courses online is the Patient Access Specialist course. PCC offers healthcare professionals the opportunity to take a three-course sequence to prepare themselves for a fast-paced frontline career helping patients access hospital services while also tracking billing, insurance, and identification procedures.
This role is perfect for a detailed-oriented people-person who wants to facilitate those coming to a clinic and connect them with the resources they need. These courses are available online to help students flexibly transition into a Patient Access Specialist role.
Medical Terminology or Medical Coding
Medical coding is an important role in healthcare since the systems created to handle insurance are becoming more complex over time. Taking a course on medical terminology can prepare you for other medical coding classes. If you've already taken PCC IHP's terminology class, you can proceed to Medical Coding.
This course helps you aid hospitals correctly bill for procedures, forming an integral part of a fast-growing field. Your coursework will put you in contact with current medical coding guidelines and help you prepare for the work environment you will encounter.
Ayurveda Yoga (200-hour RYT Training)
This program combines the option of becoming a registered yoga teacher with Ayurveda and the yoga tradition. Healthcare workers often encounter the Ayurveda tradition and bring the natural healing wisdom it contains to other aspects of their healthcare practice, helping them understand and treat patients holistically.
This can be a helpful course for nutritionists, homeopaths, acupuncturists, fitness professionals, and many more. Yoga's history is rooted in a deep understanding of the needs of the human body, and you may find refreshment and positive lessons for your own body on the way to this new understanding.
Foundations of Clinical Research
The Foundations of Clinical Research program was developed with an attention to the needs of healthcare research settings around the Portland area. There was a disconnect between some of the forms of educational preparation and entry-level clinical research needs.
PCC IHP developed this program to create a dynamic, interactive curriculum that working professionals can do to help them prepare for or retrain in clinical research. This program allows students to experience a real IRB meeting, meet seasoned professionals in the field, and have the opportunity to apply for internships in the area.
Dental Restorative Function
This course is excellent continuing education for Portland area dental hygiene professionals, either in Oregon or Washington, since it expands the range of services you can complete in your role at a dental practice. Placing, finishing, and polishing amalgam and composite restorations. The course offers a hybrid of online lectures and in-person practice on WREB-approved Dentoforms. Spending time practicing in the conveniently-scheduled weekend training days helps prepare you to take the Western Regional Examining Board Restorative Exam so that you can use this skill in your dental hygiene workplace.
Whether you opt for a technical course or expand your practice as an ayurvedic yoga instructor, the IHP is here to widen your knowledge and improve your ability to find the career path you desire. Taking these spring online classes in Portland is a great way to advance your healthcare career. We believe that our coursework is rigorous, and our instructors are supportive, helping you find the niche in your chosen field that will help you flourish. Read more about the Institute for Health Professionals and sign up for a course this spring.